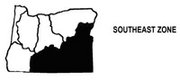 SOUTHEAST ZONE VIEWING
Harney County
Resident breeding waterfowl with broods are abundant around Malheur Lake.
Sandhill cranes can be found in agricultural fields throughout the Harney Basin.
Lesser yellow legs, killdeer, avocets, black-necked stilts, white-faced ibis, curlews, willets, pelicans, egrets and a variety of grebes species are a few of what can be seen. Forester's terns, black terns, franklins, ring-billed and California gulls can also be found.
A large number of breeding passerine species and woodpeckers can be found in National Forest land throughout the county. Malheur National Wildlife Refuge is the summer home to some unique passerines and is an excellent place for birding.
Raptors continue to be found throughout the area. You should be able to view osprey around lakes and reservoirs, golden eagles, a few bald eagles, red-tailed hawks, northern harriers, prairie falcons and ferruginous hawks.
Bighorn sheep viewing will be very difficult at this time as sheep will be with lambs and will stay near steep rugged terrain. Viewers are urged not to disturb sheep during this sensitive time period. Mule deer, antelope and elk young can be seen traveling with mothers. Fawns are rarely abandoned by their parents so if you see young hiding in the brush, leave it alone!
KLAMATH COUNTY
Klamath Falls Area
Flooded pastures around the basin offer great viewing for white-faced ibis as they forage on earthworms and other insects. These birds are colony nesters and utilize wetland vegetation to nest.
American white pelicans, killdeer, western grebes, Clark's grebes and several swallow species continue in their nesting season in the Basin. The courtship rituals of both western and Clark's grebes are both distinct and visually stunning and should not be missed by those with an appreciation of such things. Upper Klamath Lake is currently home to thousands of grebes, and viewing opportunities exist along the shore as well as from boat.
Canada goose broods are now abundant in the Basin. Though goslings are not yet flighted, they have the markings of adults and are only distinguishable by size and the dull grey colors of their first adult colored feathers. Look to ponds and wetland areas in the Basin for large groups of geese representing several broods.
Greater sandhill cranes are now actively nesting and the first colts are starting to appear after hatching.
Duck nesting is well underway with some earlier nesting species like Mallards already have fully feathered young. Other later nesting species such as gadwall can now be found with small featherless ducklings. Check out any wetland areas, rivers, and lakes for duck brood activity.
Yellow-bellied marmots have emerged from their winter dens as the days become longer and warmer. Look to rock piles and rocky bluffs to find these large, ground dwelling creatures.
For those with a keen eye for migrating songbirds, the Klamath Basin is within the migratory paths of thousands of neotropical migrants and other passerines at this time of year as they journey to nesting areas from here to the arctic north. Binoculars will help greatly in spotting these tiny migrants as they pass through. Many passerine migrants are also identifiable by song for those who listen.
Excellent viewing opportunities exist as close as downtown Klamath Falls at Veteran's Park. Be sure to check for bald eagles using the perch snag along Lake Ewuana.
Another close viewing opportunity is the Link River Trail where viewers will see many species of passerines as well as a few mammals including deer, gray fox and mink. 7/9/13.
Klamath Wildlife Area
Effective Jan.1, 2013, a Wildlife Area Parking Permit is required to park on the Wildlife Area. Cost is $7 daily or $22 annually. Free with purchase of hunting license. Buy online or at an ODFW office that sells licenses or at a license sales agent.
Waterfowl
Great Basin Canada geese are evident with goslings in tow. Mallard, gadwall and teal can be seen with ducklings as well. White pelicans can be seen foraging for fish in many of the ponds and waterways.

Sandhill cranes have returned to the basin. They can be seen foraging in the open fields and are occasionally accompanied by their young (colts).
Klamath Basin waterfowl numbers are available on the US Fish and Wildlife website at http://www.fws.gov/klamathbasinrefuges/cenfindex.html

Running and training of dogs is allowed only in the Dog Training Area by the boat ramp on Klamath River until August 1, 2013.

Overnight camping is not allowed on the Miller Island Unit. Discharge of firearms is prohibited except by permit. If you have any questions, please contact Klamath Wildlife Area at (541) 883-5734 or lanny.a.fujishin@state.or.us. 5/14/13.
LAKE COUNTY
Resident nesting duck species are abundant and broods of all species are available for viewing. For shorebird viewing, Lake Abert and the Warner Valley lakes are the best locations. All the resident nesting raptor species are present in appropriate habitats. The highest diversity of raptor species is associated with the major valleys in the county.
Bighorn lambs were born in late April or early May and are big enough to start travelling with adults. Most Antelope fawns were born in late May. Fawn mule deer and calf elk were born by early June and are just starting to travel with their mothers.

Young of any species should be left alone. Do not try to catch baby birds or mammals because you think they are abandoned. Young are rarely abandoned by their parent, if you leave the area the mother will return to care for her young. 6/3/13.
SUMMER LAKE WILDLIFE AREA
This section was updated on July 9, 2013
Summer Lake Wildlife Area requires a $7 daily parking permit or a $22 annual parking permit. Parking permits can be purchased at any ODFW license agent or through the ODFW website. Locally, parking permits can be purchased at the Summer Lake Store, 1.3 miles north of Headquarters.
Vehicle access to the Wildlife Viewing Loop is open. The Wildlife Viewing Loop will remain open until early fall. Major dike roads (Bullgate, Gold and Windbreak dikes and the Work Road) are closed to motor vehicles, other forms of non-motorized access are allowed.
All secondary roads and dikes continue to remain closed and cross-country travel is prohibited. Non-motorized travel is permitted.
Breeding season and brood rearing continues for all nesting species and viewers are reminded that running or training of dogs is prohibited. Please keep dogs on leash or under very close control during this critical time of the year. Vegetation adjacent to campgrounds attracts a wide variety of ground nesting birds and some shorebirds (Am. avocets, killdeer and willet) nest in open areas, especially along roads. Flightless broods and molting adult ducks are very vulnerable at this critical time of the year.
Waterfowl
Duck nesting continues, a few late breeders and re-nesting hens continue to incubate. Broods are becoming very apparent at this time. Unsuccessful hens and groups of drakes are beginning to flock together and many are undergoing their annual molt into the dull eclipse plumage. A simultaneous wing molt results in ducks becoming flightless for about one month. This is a very energetically demanding time of their life cycle and disturbance should be minimized. If broods or flightless adults are encountered, viewers are urged to move away to lessen impacts.
Canada goose nesting over and the molting period is winding down. Many birds have attained flight and family groups are forming flocks. Viewers are urged to minimize disturbance and move away quickly if broods are encountered.
A few non-breeding trumpeters, part of restoration efforts can be found scattered across the wildlife area. All of the restoration birds will be neck-banded with green collars and white alphanumeric symbols. Viewers are encouraged to "read" the collars and report them to wildlife area personnel. Collars will have the Greek letter Theta (Ѳ) and two side-ways laying numerals that are read from the body toward the head.
Shorebirds, waders and other waterbirds
Shorebird nesting is winding down and many broods are present at this time. All nine nesting species are dispersed widely across the wildlife area. Early breeding species such as long-billed curlew and willets are hard to observe at this time, many have already departed the wildlife area. Fall migration is beginning; individual or small flocks of northerly nesting species are arriving. These are probably non-breeders or failed nesters. Greater and lesser yellowlegs, least and western sandpiper, red-necked phalarope and semi-palmated plovers were observed over the weekend.
The recent restoration work in the Between The Dikes area is very attractive to brood rearing American avocet, black-necked stilts and several other species.

Snowy plovers have been observed regularly in the E. Link Unit and along Deepwater Canal. Newly hatch broods were observed over the past weekend.
American coot numbers remain good and single birds rearing chicks are found scattered across open water areas over the entire wildlife area. Large flocks are beginning to form. Sora and Virginia rail broods have been observed recently.
Sandhill crane pairs are well dispersed in their traditional breeding territories. A few colts (chicks) continued to be observed but are difficult to detect due to their secretive nature. About 20 pairs can be found scattered across the wildlife area. Non-breeders can be found in small groups along the north shore of Summer Lake.
Grebe (eared, pied-billed, Western and Clark's) numbers are fairly stable now, and nesting continues for many species. Broods of pied-billed and western have been observed recently.

American bittern, black-crowned night-heron and great egrets are fairly numerous now. A substantial number of white-faced ibis are present and a sizeable nesting colony (estimated to be 700-800 pairs) is present for the first time in several years. Black-crowned night-herons and great egrets are nesting within the large ibis colony. Great blue herons are present in low numbers and are widely scattered across the entire wildlife area.



American white pelican and double-crested cormorant numbers are fairly good at present. Cormorants are rearing chicks at this time.
Several hundred ring-billed, a few California gulls and Caspian terns are occupying the nesting island in the East Link Unit, at least 20 tern nests have been observed. Nesting is continues for all species and newly hatched chicks are beginning to fledge, over 100 were observed over the past weekend. Franklin's gulls have nested on the wildlife area again this year and observations are frequent.
Forster's terns are scattered widely across the entire area and nesting underway. Black terns have been observed consistently over the past several weeks and nesting is suspected. Over the weekend, more than 20 adults were observed in the East Link/Schoolhouse Lake areas.
Raptors and Others
Resident raptors, especially red-tailed hawks are scattered throughout the Wildlife Area as well as on private lands along Hwy. 31. Swainson's hawks are sometimes observed.
Northern harriers are commonly observed over marsh and hay meadows but in low numbers indicating females are rearing chicks at this time.
Ospreys have returned and are occupying the nest platforms at Ana Reservoir and Turner Place. A new breeding pair is constructing a nest between these two established locations. Birds can be observed foraging over Ana Reservoir and the upper Ana River. Chicks were observed at all three nests this past week.
Bald and golden eagles are occasionally observed on the wildlife area. A pair of bald eagles is nesting nearby on Winter Ridge and adults can be found foraging over the wildlife area's wetlands on a near daily basis.
Prairie falcons are fairly common residents of the area and are frequently seen during this time of the year.
Great horned owls and the occasional common-barn and short-eared owl can be found scattered across the entire wildlife area, especially in the trees at campgrounds. Great horned owl chicks are fledging at this time.
Upland game birds
California quail and ring-necked pheasants are widely scattered across the north end of the wildlife area. Breeding season is well underway for both these species. Both pheasant and quail broods have been observed recently especially at the north end of the area.
Passerines
Barn, cliff and tree nesting and brood rearing continues. Cliff swallows are forming into large flocks at this time in preparation for migration. Bank and northern rough-winged swallows continue to be observed. Colonies of these cavity nesting species can be found in the Upper Ana River canyon.
Eurasian collared doves remain very numerous at Headquarters Complex; more than 25 are present. Mourning doves can be found scattered throughout the area, a large number can be found in the Church, Dutchy and Swanie Field areas.
American and lesser goldfinches are seen on a regular basis, especially at Headquarters.
Occasionally, black-headed and evening grosbeaks, house finches and cedar waxwings can be observed.
Brewer's, red-winged and yellow-headed blackbirds can be found scattered across wetland areas and homestead sites. Brown-headed cowbirds remain very numerous and widely spread across the wildlife area.
Yellow warblers remain very vocal at Headquarters and western wood-pewees were heard as well.
Hummingbirds (black-chinned, calliope and rufous) and northern orioles are utilizing feeders at Headquarters.
Facilities and Access
As of Jan. 1, 2012, Summer Lake Wildlife Area requires a $7 daily parking permit or a $22 annual parking permit. Parking permits can be purchased at any Point of Sale Agent or through the ODFW website. Please remember: Calendar year 2013 parking permits are required!
Locally, parking permits can be purchased at the Summer Lake Store, 1.3 miles north of Headquarters.
The Wildlife Viewing Loop is open and provides excellent opportunities for wildlife viewing and photography. It will remain open until early fall. The major dike roads (Bullgate, Windbreak and Work Road) are now closed to motor vehicle traffic. Non-motorized travel is allowed.
All secondary roads and dikes continue to remain closed and cross-country travel is prohibited. Non-motorized travel is permitted.
Camping is permitted at four sites on the Wildlife Area. Campgrounds are primitive but each has vault toilets, trash barrels and a few picnic tables.
Habitat
Nearly all wetland units continue to recede at this time due to irrigation season withdrawals and increased evaporation. A few units will see increases in water delivery due to drying of private meadows in preparation for haying. Bullgate Refuge is being drawdown and will be held dry in preparation for wetland restoration later this summer.
Emergent wetland vegetation is vigorously growing across the entire area at this time. Submerged aquatic plants have filled the water column in nearly all ponds and canals.
Upland habitat remains in excellent condition with considerable residual vegetation and extensive new growth that is providing high quality food and cover for many wildlife species.
Planted tree and shrub plots are providing excellent sheltered sites for many wildlife species. Nearly all trees and shrubs are leafed-out and nearly all species have set berries or fruit at this time.
Please contact Summer Lake Wildlife Area at (541) 943-3152 or e-mail martin.j.stlouis@state.or.us for additional information.