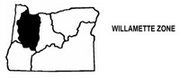 WILLAMETTE ZONE VIEWING
Valley Wide
Western Painted and Western Pond Turtles
On warm, sunny days Oregon's two native species of turtles can be seen on basking on logs in ponds, lakes, and side channels of rivers and large streams. Basking is critical to a turtle's shell health and aids in food digestion.
This is also the time of the year when turtles are often spotted on land, searching for places to lay their eggs. If you see a native turtle that seems to be headed somewhere, remove any hazards in its way and let it continue.
Unfortunately, it is also the time of the year when two non-native turtles can be by observed. Red-eared sliders with characteristic red markings "ears" can be seen basking on logs and coming to land to nest. If you see a very large turtle with a big head, long tail and alligator-like appearance, you've found a snapping turtle. Both of these turtles are considered invasive and should not be released into the wild. Please report sightings of non-native turtles to ODFW. To report a turtle sighting and see turtle photos, go to: http://www.willametteturtles.com/
Corvallis Area
EE Wilson Wildlife Area.
There are lots of deer, shorebirds and waterfowl to see on the Wildlife Area—look for goose, mallard, hooded merganser and wood duck broods. Wildlife viewing remains good for waterfowl and shorebirds. Neotropical migrants in the area include yellow-breasted chat, American goldfinch, various swallows, warblers, thrush, kinglet and common yellowthroat.
Spring and summer are great times for birdwatching migrants as well as waterfowl including mallards, wood duck, hooded merganser, western Canada goose. Snipe and other shorebirds are periodically seen.
Note: Dogs are required to be on a leash inside the wildlife area boundary. Rifles and pistols are prohibited year round.
Find directions to EE Wilson Wildlife Area.
Eugene Area
Delta Ponds' Turtles
This time of year viewers can observe native western pond turtles as they soak up the sun basking on logs. The best time to observe turtles is mid-mornings on sunny days. The turtles will retreat back into the water if the temperature is too hot. Please try to observe the turtles from a distance to avoid disturbing them. Unfortunately, viewers will likely see Red-eared Sliders in addition to the Western Pond Turtles. The sliders are a non-native invasive species that compete with our native turtles for habitat and food.
For more information, visit the City of Eugene Parks Web site.
Fern Ridge Wildlife Area
Fern Ridge Wildlife Area is open daily for public use providing great wildlife viewing opportunities. (One section of levee in the western portion of the Fisher Butte unit is posted closed to provide wildlife sanctuary.)
Observant visitors may catch a glimpse of black tailed deer and furbearers including beaver and otter, mink, red fox and coyotes. Some of the unusual and special bird species to be on the lookout for include white pelicans, black terns, band-tailed pigeons, yellow-headed blackbirds, osprey and bald eagles. This is a great time of year to look for waterfowl, shore birds, wading birds, songbirds, raptors, reptiles, and amphibians. 
There is an elevated viewing platform in the Fisher Butte unit just south of Royal Avenue that is open year-round. A second viewing platform is under construction and scheduled for installation this summer. The new viewing platform will be located 1/4 mile north of the Fisher Butte unit parking lot on Hwy 126.
Visitors are reminded that dogs must be kept on leash at all times. Visitors are also cautioned that there have been recent vehicle break-ins at Fern Ridge and in local parks, so please secure your valuables before departing your vehicle. Parking areas are located along Highway 126, Nielson Road, Cantrell Road, Territorial Road, and Clear Lake Road. Contact the wildlife area headquarters, (541) 935-2591 if you have any questions.
Directions to Fern Ridge Wildlife Area.
Sauvie Island
Sauvie Island Wildlife Area
The Wildlife Area is open — stop by your local ODFW license agent or ODFW office and get a parking permit. At $7 a day or $22 for the season, your ODFW wildlife area parking permit opens the door to a year's worth of wonderful wildlife viewing.
Bald eagles and red-tailed hawks are very active caring for their new arrivals. Anna's and Rufous hummingbirds are back in great numbers and the finches are arriving. The great blue heron rookery is visible from the Walton beach parking lot. Herons generally nest (roost) in colonies in large trees.
The ospreys are building their nests; cinnamon teal, wood ducks and gold finches are arriving.
Find directions to Sauvie Island Wildlife Area on the ODFW Web site.
Sweet Home
Feature: South Santiam Fish Hatchery
Fish raised: Spring Chinook and summer steelhead
What to see and do: Returning adult fish are captured at Foster Dam March – October. Juvenile fish are reared at the hatchery year-round. There is a 1,200-gallon aquarium for viewing various species of adult and juvenile fish.
Self guided tours are available from 7:30 a.m. to dusk. See many species of birds including barn swallows, kingfisher and osprey.
Nearby: The South Santiam River is one of the top summer steelhead fishing rivers in the state, with the best fishing May - July. Foster Reservoir upstream from the hatchery has fishing, boating, picnicking and camping available to visitors all year.
Directions: Take Hwy. 20 through Sweet Home. Just east of Sweet Home turn onto Foster Dam Road. Cross Foster Dam and proceed to a stop sign at the opposite end of the dam. Turn left onto River Road. Travel 1/2 mile and turn left to enter the hatchery.