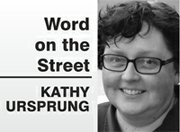 A little coffee with those fries? Is it too much to ask for a little designer coffee and a tasty burger on the same corner? Apparently not according to Michael Heller, owner of Burger King, who recently gained city administrative approval to put a coffee drive-through on the same parcel as the existing fast food restaurant at Sixth and Webber streets.
According to Dawn Hert with the city, the building will be located on the corner of the property closest to the intersection and will include not only a drive-through window but a walk-up sidewalk window, as well. The plan will include some parking modification, new lane striping and landscaping.
Coffee, part 2: Goodwill is also incorporating a drive-through coffee shop on its lot development at the other end of Cascade Square. It will be attached to a retail operation. A drive-through restaurant near the Wells Fargo ATM kiosk will bring the building total on that property to three.
Hert noted that development activity is starting to increase in her office.
"Things are moving — they're actually bumping — in the office," she said. "We've had lots of inquiries."
A look at social media: Lisa Farquharson, CEO of The Dalles Area Chamber of Commerce, will present "Social Media — Is it for You?" at the Friday, July 19, Power Breakfast.
The breakfast is held once a month at Columbia Gorge Community College in the lecture hall, Building 2, third floor. Breakfast is served promptly at 7 a.m. so the program can begin at 7:15.
Reservations and payment must be made the Friday before the breakfast. Call the chamber at 541-296-2231.
New charms: Some new businesses have been added to the Charm Trail Map this month including The Riverenza, Bohn's Printing, Inc., Gorge Paranormal Society, Grinders Coffee, Old St. Peter's Landmark, Rivermark Community Credit Union, Home at Last Humane Society and the City of The Dalles Fire Museum, with Griffith Motors, St. Vincent de Paul and The Dalles Civic Auditorium coming soon.
You can check out the charm bracelet and get a Charm Map at The Dalles Area Chamber of Commerce.
"I absolutely love it and am up to 19 charms now," said Tammy Tripp in a note of unsolicited praise. "I've been in businesses I didn't know existed.
"I try to make purchases (if possible) at every place I visit," Tripp added.