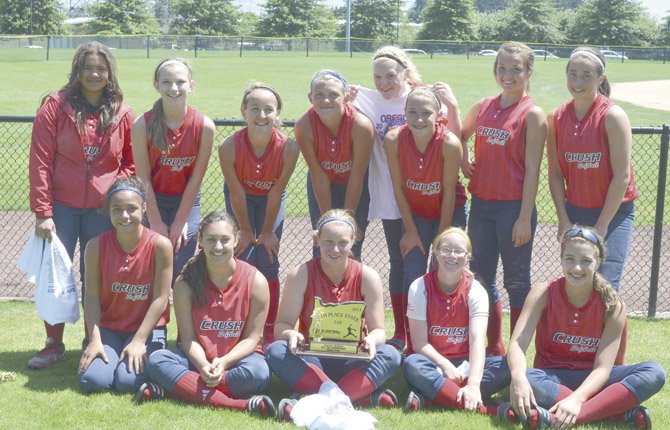 Entering last weekend's ASA state softball tournament, the defending 2012 12U champion Cherry City Crush had a target squarely on their backs, this time on the 14U circuit.
In a two and a half day span, the Crush scored 50 runs and amassed a record of 7-2, but lost to North Medford by a 10-2 marker in their tourney finale to secure fifth-place honors in Hillsboro.
There were 40 teams from all over the state in what is considered the largest of all the state ASA girl's fast pitch tournaments.
Head coach Bob Delaney expressed pride in their gutsy effort.
"With a record of 7-2 record and playing nine games over two and a half days this was one of the most incredible softball tournaments I have been a part of as a coach," Delaney said. "This was truly a team effort throughout the whole weekend as each and every player contributed to the fifth place finish. The players dug down deep and left it all out on the field."
It was a solid beginning for the Crush, who kicked things off with a Friday date against Lake Oswego.
In this close matchup, the Crush outlasted Lake Oswego in eight innings to post a 4-3 victory.
This come-from-behind win set the tone for the rest of the weekend.
However, that good fortune hit a speed bumps of sorts in the second game Friday, where the Crush could not get their bats going in time in a 5-2 loss to the Oregon Stealth.
Although faced with a tough test in the loser's bracket, the Crush jump up off the deck and pulled off six consecutive tournament wins, including three contests in a row.
In an early morning session, the Crush had the hot sticks working in their favor, as they posted a tourney-high 16 runs in a lopsided 16-5 triumph over the Southern Oregon Dirt Dogs.
Over the next three games, the Crush defense and pitching held opponents to a total of three runs while scoring 16, so things looked to be cooking.
The Crush came back to upend Pendleton by a 7-0 margin and in two other Saturday tussles, they went on to defeat C.C. Extreme by a 5-1 tally, and tacked on an impressive 4-1 decision over Hermiston.
Riding high off four dominant victories Saturday, the Crush came out firing again on Sunday with a nip-and-tuck showdown with the Junior Eagles.
Things were dicey at times, but the Crush managed to slip by with a close 5-3 rally.
The winning streak swelled to six in the next contest, as the Crush motored past Silverton by a 5-1 score.
In one fell swoop, the tournament and season abruptly ended after perennial powerhouse, the North Medford Black Tornado cruised to a 10-2 win.
On the bright side, Delaney mentioned that the only two losses posted by his group were against the eventual champion Black Tornado and the fourth-place finisher, Oregon Stealth.
Since eight of these players have the experience of winning a state championship in their blood, the other five players will come together during the offseason for a strict regimen of hitting, pitching and defense to get back to those winning ways.
Jodi Thomasian, Sarah Helyer, Sierra Watson, Kathryn Bradford, Abby Robertson, Shaynie Watson, Kailin Hoylman and Abby Walker have their focus down, and so do Haley Becnel, Laney Schanno, Jessika Nanez, Emma Weir, and catcher, Jez Ferrell.
For more information on all other Crush teams from the 10U through 14U levels, or to sign up, all interested fans and parents can go to www.cherrycitycrush.com.