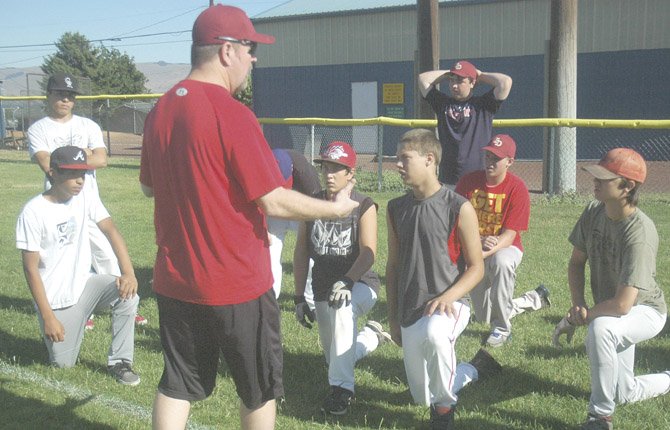 Last season's results were not good enough for Denzel Arellano.
Now he and the rest of the 14U Babe Ruth All Stars are looking to play their best ball of the season this weekend in state tournament action in The Dalles.
Fourth place is not good enough.
"Obviously, we are going to try for first place," Arellano said. "We are hoping for the best. Even if we get second or third place, I just want us to do better than we did last year."
All but two of the players on this team are back on the roster, and they welcome two new recruits in Sherman's Max Martin and The Dalles' Tyler Robinson to boost the number to 13.
"Max Martin from Sherman, he has come in and been a leader from the get-go," said All Star coach Sean Herriges. "Tyler Robinson is a quality addition. He is a little bit older, a grade ahead of these guys, but he is a calming influence and a great guy to have on the club."
In looking at the roster, pitching depth is a critical element to success on the field and Herriges said he has a dominant 1-2 punch as aces in Tyler Westin and Boston Bate.
Izaac Tapia, Denzel Arellano, John Miller and Jacob Wetmore can be called upon to eat up some innings and hold down the opposition as well.
While none of those names has a high-level fastball, Bate said they need to hit their spots and keep batters off-balanced.
"We can be pretty good. We just have to stay together on one level," Bate said. "Half of our pitchers are pinpoint and the other half are straight up pinpoint and junk, so if we can keep them off-balanced and get some ground balls and popouts, we will have a good chance."
Dylon Jinkins is another live arm coming out of the bullpen, but Herriges is still unsure whether he will use the diminutive Jinkins as a starter or as the closer.
"He is short in stature, but he has a big heart and he throws hard," Herriges said.
If the opposing teams put the ball in play, this defensive crew is known for having solid gloves.
Any of those pitchers can be used out on the field and Herriges has Aaron Maney, Tazman Moffett, Tanner Herriges, Martin and Robinson at his disposal.
Arellano, who will spend the bulk of his time as catcher, feels fundamental defense is a big key to a successful tournament run.
"We have a strong middle infield between Preston (Klindt), me, John (Miller) and Max (Martin)," Arellano said. "We have a good first baseman, good catcher and a good outfield. We can dominate on defense."
In the Senior American Junior Baseball Tournament played on June 23-24 at Gladstone, most of the names on this roster showed a hitting prowess.
The Dalles scored 25 runs in three games to place second and had six players rack up batting averages of more than .500 or better.
In all, they hit 14 extra base hits, received seven walks and swiped 23 bases.
Coach Herriges likes either Klindt or Arellano at the leadoff slot, so whoever is first, the other will bat third after speedy No. 2 hitter, John Miller.
"John has spent some extra time hitting down at the Portland Metro Camp and it has really paid dividends in these last three or four weeks," coach Herriges said of Miller, who hit .556 in Gladstone.
Bate is slated to bat fourth, Westin fifth and RBI machine Tanner Herriges is penciled at six, followed by Maney at seven.
The skipper said there is good blend of speed and power that can come off the bench and contribute hits, steals and bunts if needed.
High on the critical list is not leaving base runners on base, a trend that has led to several losses this summer.
"Our hitting is perfect. I think our offense is pretty exciting," Bate said. "We never get satisfied. We are always scoring runs in each inning."
Klindt feels it is going to take focus and hard work to get this team back up to the level they should be.
"I think the biggest learning lesson we are going to take out of this is how well we are setting this whole tournament up for high school," Klindt said. "This would be a good benchmark to see how well we would do in the future."
The Dalles played earlier today against Mid-Willamette Valley. At 5:30 p.m. tonight, they hit Kramer Field again for a game versus Tualatin Hills.
TD plays Portland Metro at 8:30 a.m. Friday, and adds another matchup against Union County at 11:30 a.m.
The top four of the seven teams advances to the championship rounds Saturday with games at 9 a.m. on both Kramer and Wahtonka Fields.
At 2 p.m. on Kramer Field, a champion will be crowned.
"These guys have the potential to play in the championship game," Herriges said. "They got to push themselves from within. They got to take the mentality from the first pitch, 'refuse to lose.' If they do that, they can compete with anybody."