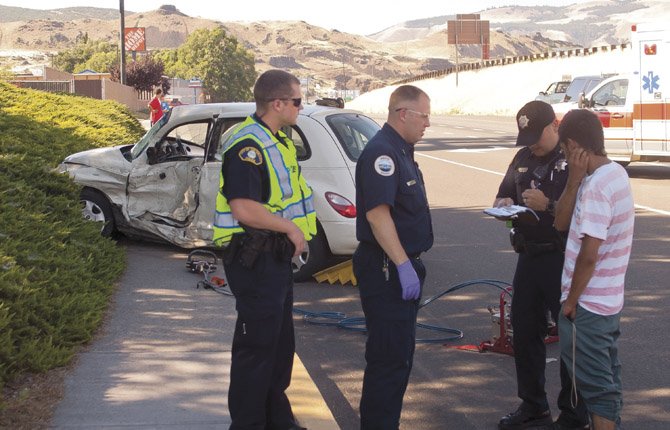 A three-vehicle crash on Highway 97 and an accident on Hostetler Way in The Dalles resulted in a total of three fatalities on Wednesday.
A 72-year-old The Dalles man died early this morning from his injuries following a two-vehicle crash Wednesday afternoon. John Andrew Emilio, of 4910 Lockwood Dr., was driving a PT Cruiser that was involved in an accident with a Ford van at the intersection of West Sixth Street and Hostetler Way Wednesday at 4:50 p.m.
Emilio was Lifeflighted to Oregon Health and Science University, and died at 12:22 a.m., according to The Dalles Police Department. The driver of the Ford van, Victor H. Hernandez, 23, of Beaverton, was taken to Mid-Columbia Medical Center.
Captain Ed Goodman said the cause of the accident is still under investigation.
"A lot of people saw the accident. Traffic was very heavy," he said.

Meanwhile Oregon State Police, with the assistance of Sherman County Sheriff's Office, are investigating a multi-vehicle traffic crash that occured along Highway 97 between Kent and Shaniko and resulted in the deaths of two people.
Preliminary information indicates on July 10, at approximately 2:45 p.m., a collision involving two commercial trucks and a passenger vehicle occurred on Highway 97 near milepost 51. The two occupants in the passenger car, an adult male and adult female, were pronounced deceased at the scene.
According to Sergeant Les Kipper, a passenger car driven by an adult male was southbound on Highway 97 near milepost 53. The car moved into the northbound lane attempting to pass a southbound commercial truck when the car's driver lost control for an unknown reason as a northbound commercial truck approached.
According to an OPS news release the car crossed broadside toward the southbound lane and was struck in the driver's side by the commercial truck driven by Gene E. Weller II, age 58, from Yucaipa, California.
After the initial collision, the southbound commercial truck driven by Lawrence E. Handel, age 67, from Hermiston, was involved in a secondary collision and the northbound truck driven by Weller traveled off the east side of the highway before coming to rest.
With the help of people who stopped at the scene, Weller, who was using safety restraints, got out of his truck and later was taken by ambulance to Mid-Columbia Medical Center in The Dalles for treatment of non-life threatening injuries.
OSP troopers from The Dalles Area Command office are still investigating the cause of the crash. Names of the two victims have not been released as of press time pending notification of next of kin.
Assistance at the scene was provided by Sherman County Sheriff's Office, Moro Rural Fire Protection District, North Sherman County Rural Fire Protection District, South Sherman Fire Protection District, Sherman County Ambulance, and ODOT.