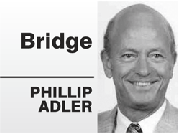 Michel de Montaigne, a 16th-century French essayist who was well-known for combining intellectual exercises with casual anecdotes, said, "In nine lifetimes, you'll never know as much about your cat as your cat knows about you."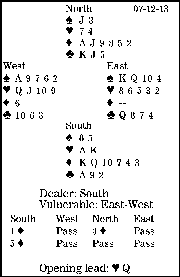 In bridge, nines (and 10s) can be valuable cards. If your hand has several of these intermediates, as they are known, be optimistic in the bidding. In this deal, South is in five diamonds. What should he do after taking the heart-queen lead with his ace?
North made a game-invitational limit raise. South's decision to plunge into five diamonds worked well. If he had rebid a scientific three hearts, trying to reach three no-trump, West might have deduced that his opponents were weak in spades and led that suit. Then five diamonds would have failed.
South has three potential losers: two spades and one club. He has 10 winners: two hearts, six diamonds and two clubs. So it seems as though he needs the club finesse to work. However, South can improve those odds considerably.
Declarer should draw trumps, cash his second heart winner, and cast adrift with a spade. The defenders take two tricks in the suit ending with West. (If East is on lead, he must either play into dummy's club king-jack tenace or concede a ruff-and-sluff.) When West shifts to a club, South plays low from the dummy. Here, East has to put up the queen, so the contract is home. But if East can play the 10, declarer still has the finesse of dummy's jack available. He goes down only when East has both the 10 and queen.