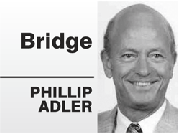 In the "Get Smart" television show, the agents from Control usually battled against the bad guys from Kaos. To be successful, bridge players must know how to control the trump suit; otherwise, the play might become chaotic.
In this example deal, South is in four spades. The defenders start with two rounds of hearts. How should South continue?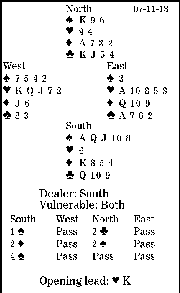 North's sequence showed a game-invitational hand with exactly three spades. Although South had only 12 high-card points, his secondary club fit made his hand worth game.
Declarer has 10 winners: five spades, two diamonds and three clubs. And if trumps are breaking 3-2, it will be easy to take those tricks. So South should wonder about a 4-1 spade split.
To see why this is important, suppose declarer trumps the second round of hearts and starts to draw trumps. When he sees the 4-1 break, he will have to stop (or run out of trumps) and shift to clubs. But if East ducks the first round, takes the second (seeing West's high-low to show a doubleton), and gives West a club ruff, the defenders will eventually get a diamond trick for down one.
Since South is doomed to lose one diamond whatever happens, he should be happy to concede it at trick two, discarding a diamond from his hand instead of ruffing. Then if a third heart is played, declarer can ruff in the dummy, keeping his five trumps intact. He can draw trumps, knock out the club ace and claim.
Watch out for the loser-on-loser play.