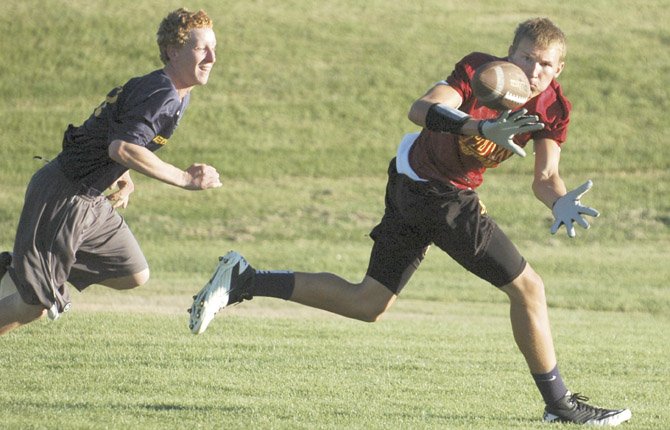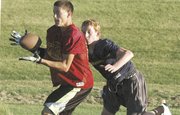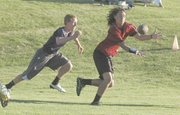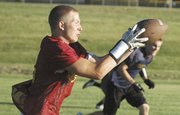 The running and gunning offensive philosophy taken by The Dalles Wahtonka football team is starting to hit on all cylinders.
At one point, TDW rattled off 24 plays in a 10-minute span and put together several scoring drives in the process in Thursday's 7-on-7 passing scrimmages at Hood River High School.
"The coaching staff was real pleased with that knowing we could do even better," said assistant coach Ron Diede. "It will be tough to keep pace with the Eagle Indians this year. The kids are showing a lot of confidence in what they are doing and I believe it will translate on the scoreboard."
Also attending the camp with the two 5A schools, TDW and Hood River Valley, are Goldendale and Stevenson programs
Each team had seven players on the field playing either offense or defense in 10-minute increments.
If a defensive team caused a turnover, the ball went back to the offense.
The driving team started at the opposition's 40-year line and could score as many touchdowns as they wanted.
For The Dalles Wahtonka, Chaise Shroll, Zach Cantrell and Dominic Seufalemua took snaps at quarterback, while Blake Diede, Eli Holeman, Billy Brace and a few others took turns at running back duties.

On passing patterns, Zach Nerdin looked to be in mid-season form at tight end, where he snatched a large majority of the passes thrown his way.
Austin Dehart displayed some talent at wide receiver, using his 6-foot-3 inch frame to fend off other cornerbacks.
Shroll, Bryce Belanger and Cantrell also saw time on offense and appeared to be big threats, given their size and sure hands.
Some issues from last year circled around, ill-timed miscues that stalled drives.
So far, Dehart likes the mentality this team has shown to correct those elements.
"I think we are doing good," he said. "Everybody on this team has complete trust in each other. We have some plays and a new philosophy under coach (Steve) Sugg, so I think this is going to be a good year, a very good year."
Earlier this summer, TDW played in a 7-on-7 tournament and hung with two-time defending 6A champion, Lake Oswego. The Tribe added a comeback bid against Oregon City, but ran out of time. They beat up on North Salem and versus Silverton, who is already showing some glimpses of stout ability thus far, the Eagle Indians held their own on the field.
Brace, a defensive end and running back, is in the best shape of his life in the early going and he is looking to end his football career on a good note.
"Sugg pushes us pretty hard and the coaches definitely motivate us," Brace said. "They make us feel pretty confident in what we are doing."
The talent shown on defense under coordinator Rich Belnager has impressed the senior.
Technique is important on defense, as is reading, reacting and executing the fundamentals.
"I think we are getting it figured out," Brace said. "It is really important that we come out ready to play tough defense. I think guys are ready to bring the heat."
Dallas Buckley is part of a fresh-faced roster overhaul at Hood River Valley High School — the defending Columbia River Conference champions and a squad that lost 15 seniors.
Depth can be an issue, however, as Buckley expressed concern about the lack of numbers.
Such is the case with TDW, who has 72 players issued gear, but a little more than half attending football functions, the Eagles have some players not at practices or workout sessions.
It hurts program continuity. With athletes not showing up, they are falling behind the pack.
Securing playing time might be a difficult task for them, because of the overall effort that is being shown by the dedicated football players who have been loyal to next season's effort.
"Coach tells us it is important to get as many bodies as we can here so we can all work together and have more of a team bonding thing," Buckley said. "I think we can be a good team, but we need all of our leaders here."
Thursday, the sophomore Buckley took snaps at wide receiver for an offense that did not have a wealth of size, but had several quick difference makers.
All of those aspects can be deadly once everyone is on the same page.
"I think we can be an exciting team as long as we run the right plays and use our fast guys out on the corners and get our running backs to run it down their throats," Buckley said. "I hope that our line can step up and hold off the defense long enough so where we can make those big plays."
All last year, Riley Van Hoose had been biding his time for an opportunity to be a team leader.
The lefty quarterback is developing more of a leadership role so far, as he further nails down a first-string slot.
He is far from a finished product and at this point in the offseason, his biggest goal is to establish chemistry with his receivers and running backs to keep a fast-paced offense moving the chains.
"I am trying to improve every day," Van Hoose said. "I am working on staying focused and doing my best for the team by helping everybody out and being more of a leader on the field. We are building chemistry with these guys and getting everyone on the same page. We are trying to make the older guys as good as we can get them and build the confidence in the younger guys, letting them know that they can compete at this level."
All four teams are back in action at 6 p.m. next Thursday in Hood River.
The following two weeks will be at Columbia High School in White Salmon, Wash.
On July 22, at Fort Vancouver High School, the Eagle Indians will suit up against the Fort Vancouver Trappers and the Sherwood Bowman.
If things pan out, they will play Wilsonville, Centennial and one of Portland's Elite Passing Academy programs.
There is still time to join TDW's football program.
If assistance is needed, Friends of Football has offered scholarship opportunities for athletes who need financial assistance to play.
Call 541-993-0216 for more information.