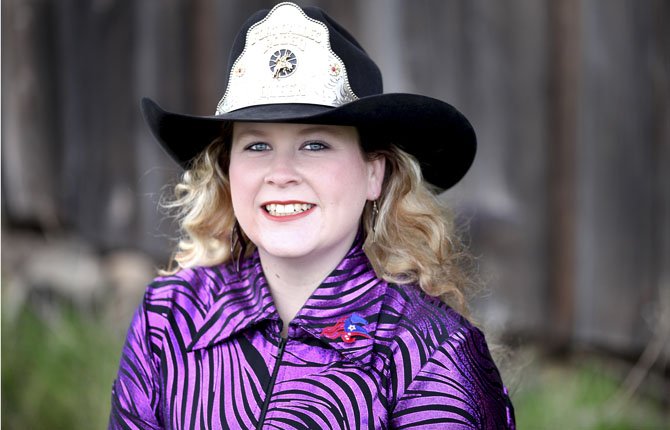 For 23-year-old rodeo queen Candace Shattuck, it's always been about horses, horses, horses.
"I learned to ride way before I learned to walk," she said seriously.
Shattuck, who is serving as this year's Fort Dalles Rodeo Queen, said one of her favorite things about being a rodeo queen is having an opportunity to promote the sport of rodeo and the joys of riding.
"Riding horses relieves a lot of stress; it chills people out and gives them a chance to relax," she said. "I like talking to people and promoting rodeo around town. I get to see a lot of new places."
She said she also enjoys the community involvement her position provides. Since her crowning last fall she has been able to participate in a number of community service opportunities, such as reading to elementary school children during Read Across America Day in March.
The Roosevelt, Washington native said she would encourage any parent to give their children an opportunity to learn how to ride and take care of horses.
"It's a really good way to stay out of the troubles that teens these days seem to get themselves into," she said.
Shattuck's favorite rodeo event is barrel racing, a sport she loves both watching and participating in.
She spends plenty of time with horses on the family cattle ranch, where she says she is "pretty much the hired man."
Shattuck was homeschooled growing up and said her favorite subject was science. She has gotten some schooling under her belt at Columbia Gorge Community College in preparation for pursuing a veterinarian technician degree.
It should come as no surprise that she wants to specialize in caring for horses and other large animals.
Her parents' names are Joe and Sharon Shattuck and she has four older brothers. She said she always loved tagging along with her brothers when she was growing up, even though the age difference meant three of them were out of the house by the time she was "old enough to do much."
When Shattuck came in for her interview at The Chronicle she was on crutches (no, it wasn't a horse-related accident, she said) and said fans will likely have to look out for her shiny rodeo queen outfit on a golf cart or similar transportation.
Whatever she is riding, she will have her pen ready for the little girls who are always excited to get a signature from a real live rodeo queen.