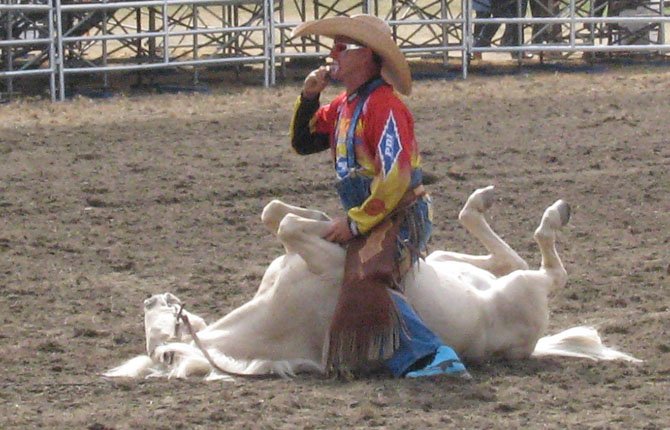 The annual Fort Dalles Days Pro Rodeo returns to Milt Tumilson Arena, July 18 to 20, with more than 300 contestants expected to compete in the eight traditional events.
Nightly ticket prices for the show are $12 for general admission and $15 for reserved seating.
On Wednesday, July 18, Jake Grossmiller announces the slack events starting at 6 p.m. with free admission. Slack is the overflow of contestants who are not able to compete in the main show, either because of scheduling conflicts or limited space for entry.
Frankie "Punkintown" Smith makes his entry as rodeo clown at this year's Fort Dalles Rodeo.
"It is awesome to wake up every morning and love your job, or at least that's what some people call it," Smith said. "I say it is great to get up every day and be myself. I don't have to hide behind makeup and put on an act, I just get to be me."
Smith has performed at the Cody Stampede, Spanish Fork, Utah, Fiesta Days and other events. He has 15 years of experience as a rodeo clown. He attends more than 100 rodeo events annually across the United States.
Family night is Thursday, July 18 and family tickets for two adults and two children can be purchased for $30. Cowboy Catering will prepare the annual steak feed dinner, which costs $12. Pony rides will be available for the kids on Thursday also.
Rodeo fans who are "tough enough to wear pink" are encouraged to show up Friday and show off their color for the Susan G. Komen for the Cure Foundation and breast cancer awareness.
Friday's post-rodeo musical entertainment will be provided by Barbed Wire DJ John Rolfe. Saturday, Carry Cunningham and the Six Shooters will perform. Music and dancing will begin after rodeo events are finished.
On Saturday morning, cowboys and cowgirls are invited to attend the Mid-Columbia Senior Center's "cowboy breakfast" from 7:30 to 9:30 a.m. at 1112 W. 9th St.
The donkey races and the mechanical bull are two other crowd-pleasers. Chad Nicholson, a 20-year veteran professional rodeo announcer and motivational speaker returns to the announcer's booth.
Rodeo tickets are available at The Dalles Chamber.