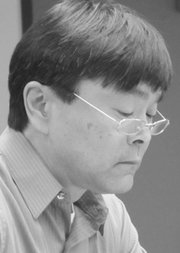 HOOD RIVER — The American Recreation Coalition has named Stan Hinatsu, Forest Service recreation program manager for the Columbia River Gorge National Scenic Area, as a "Legend in the Management of Outdoor Recreation."
Legend Awards are given to seven federal land managers in recognition of their outstanding work to improve outdoor recreation experiences and opportunities for American people. Over his 34-year career, Hinatsu has demonstrated significant contributions in all of the criteria that constitute this national award.
"He lives in The Dalles; he's very engaged in his community and very engaged in things outside the Forest Service," said Lynn Burditt, scenic area manager for the Forest Service.
He is a collaborator with the Oregon Zoo, the Oregon League and a variety of other endeavors, Burditt said.
The award announcement describes him as a true renaissance man in the recreation profession. He participates in all facets of recreation planning, program and facility development, operations, partnerships and monitoring. He does so in the unique setting of the Columbia River Gorge, the first congressionally designated national scenic area and still just one of a handful nationwide.