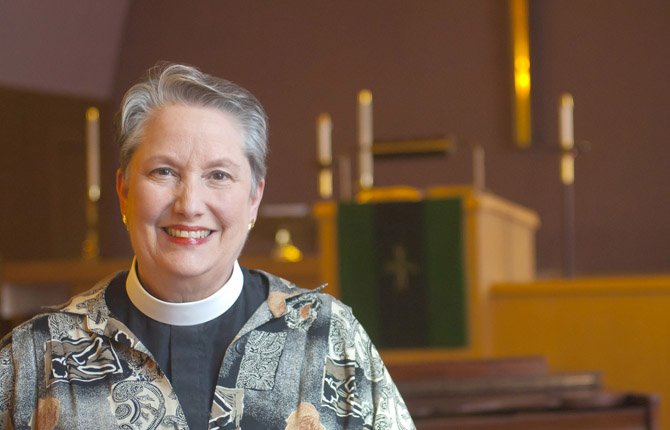 When the Rev. Dr. Maggie Rourk began seminary at what she thought was the relatively advanced age of 36, she was sure she'd be one of the oldest ones there.
She was far from it, she discovered. The average age was 33. She's already carved out a career as a high school English and French teacher, and had also worked in business and at a large law office when she finally turned to the ministry, a field she'd long known she would enter.
Just last fall she retired from being a full-time pastor in Virginia, and she and her husband moved to Portland to be near her oldest son. She'd always planned to be an interim pastor in retirement, but not in a full-time capacity.
But God had other plans, she said, and in March she found herself serving as the full-time interim pastor at Zion Lutheran Church after Pastor Chris Kramer moved to a church in Bend.
She loves the congregation and ministry at Zion.
"I float all week after Sunday morning; it is just a blast," Rourk said. "It's joyful worship and I'm so thrilled and honored to be here and be their pastor during this time."
Kramer was known for his adventurousness and for challenging the congregation and encouraging it to follow Christ's example to help others.
Rourk is fully in step with that approach, saying it just so happened that this Sunday's sermon is about the Good Samaritan, a well-known Bible story of two high-ranking religious men who purposely avoid helping a beaten, dying man, for fear of violating religious rules and becoming unclean if they touch a dying or bleeding person, while a Good Samaritan, a man from a lower strata of society, stops to lend aid.
The lesson is one that resonates at Zion Lutheran, Rourk said.
"A congregation that's healthy, and this is a very, very healthy congregation, has a very good grip on what Jesus has commanded us to do," she said.
Rourk, whose rich Southern drawl reveals her roots in Charleston, South Carolina, pulls no punches in any area of conversation, even when she's talking about Jesus.
"He was so annoying," she said. "He almost never answered a question directly. He answers a question with a question, or a story."
And this story of the Good Samaritan showed that these devout and pious men cared more about being ritually clean than about helping their fellow man.
Jesus commanded his followers to love God, love their neighbors as themselves, and to care for others, she said.
Matthew 25, she said, sums up a Christian's duties: "Feed the hungry, clothe the naked, give drink to the thirsty, welcome the strangers, visit the sick and imprisoned, comfort the dying and console the grieving," she said. "That should keep you busy and out of trouble."
While the name of her synod is Evangelical Lutheran Church in America, she feels the word "evangelical" — which simply means the Gospel, or good news — has been "highjacked. Evangelical does not mean politically and socially ultra-conservative or any of the crap that goes with that."
She is accustomed to raising eyebrows with her observations.
"I don't know that I've been politically correct one day in my life."
But for her, the pulpit is a politics-free zone.
"I don't spout any politics, except those of our Lord. If you don't like it, take it up with him."
While she could not be accused of being politically conservative, she still has strong expectations of her flock. She figures "Jesus won't hold it against you" if you occasionally miss a Sunday service, but she does expect people to be regular church attendees.
Rourk grew up Presbyterian, but was drawn to the Lutheran church when she'd visit an aunt who was Lutheran. She was at the Lutheran church one Easter Sunday, when she was 12 or 13, when "it dawned on me that Lutheran worship is a conversation with God. We talk; God talks back. And the liturgy still blows me away."
After she graduated from seminary, Rourk was a pastor for three years, then went back to the seminary she graduated from and worked there for 12 years as its director of church and public relations.
She went on to get her master's and Ph.D. in theology as well.
"I have fun with what I do," she said. "I take what I do very, very seriously. God has called me to this and I have to answer to the boss. But I don't take myself too seriously."