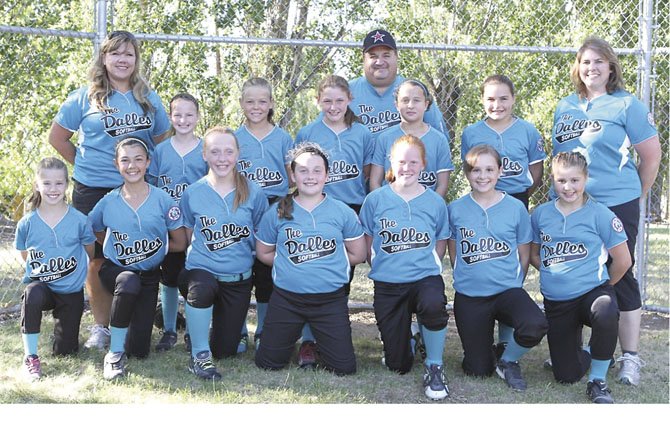 12U softball squad is an unknown quantity
Group off to first Babe Ruth tourney feeling confident
While The Dalles 12U Softball All Stars are venturing into unchartered waters, there is hope that a positive experience at the upcoming Babe Ruth Pacific Northwest Regionals will be the start of something promising in the future.
Coaches Dawn Marie Hert, Steve Byers and Dawn Sallee-Justesen bring together a young, but energetic team representing The Dalles Softball Association for four days of action starting Wednesday in Meridian, Idaho.
Of the 12 players on the active roster, Kayla Bayley, Sydney Byers and Emily Palmer make up the oldest on the team at 12-years old. The other nine range from 9-12.
As one of the veterans, Sydney Byers has a message of never giving up and trying your hardest for her mates.
She wants them to cheer each other on and show good sportsmanship.
"We have a good team," the younger Byers said. "I am really excited (for the tournament)."
Along with the older trio, Cassie Macnab, Sydney Fransen, Sophia Pullen, Courtney Hert and Maggie Justesen make up part of the roster that can execute on the fundamentals of the game.
There will be five pitchers called upon to throw strikes and keep the opposition at bay, but Palmer and Audrey Synon will log the bulk of the innings.
Savanna Jones, Cadence Snyder and Piper Thomasian are three competitors who can provide some much-needed punch to the batting order to drive in runs.
All three coaches feel as though this team will need to score a lot of runs, so bunting, stealing bases and small ball are important elements to execute.
Fans can expect some high-scoring capabilities from The Dalles.
"We are going to have some pretty tough games, but we have a great group of girls with some natural talent as well as some good fundamental skills," said coach Hert. "We are hoping to be successful and win a couple of games. I know the girls are anxious to get this started."
This marks the first time an all-star team from TD Softball Association gets to play in a prestigious Babe Ruth tournament.
It is a partnership between league presidents, Butch Hert (Babe Ruth), and Lisa Rowland (TDSA) that made this all possible.
Hert said both organizations share the same fundamental desires of giving more girls an opportunity to play competitive ball in the summer.
"In previous years, their season is done by the end of June, so by us coming together, it gives a small group of girls a chance to experience a tournament, which some of them have never done before," Rowland said. "I am excited for them." The goal is to get two teams to Babe Ruth tournaments next year in other age groups.
Rowland assured that there is no competition with the Cherry Crush program.
"We just want to give girls who do not make the Crush teams a chance to play the game," Rowland added.
Although they have practiced together for three weeks, Sallee-Justesen feels like this team is jelling very well.
She said there has been great parental support and the athletes are showing complete dedication to improving their skill set.
Coach Hert added that in the end, they are getting a taste of competition.
This way, they know how well they compete at this level and how they can come back stronger in the years to come.
"I think when it is all said and done, we want to look back and say we learned something and we know what we need to work on to be successful next year," coach Hert said. "Our goal is to have every girl improve in the summer in one skill or another, whether it is offense or defense. We want them to set and accomplish team and individual goals for themselves so they have something to shoot for."