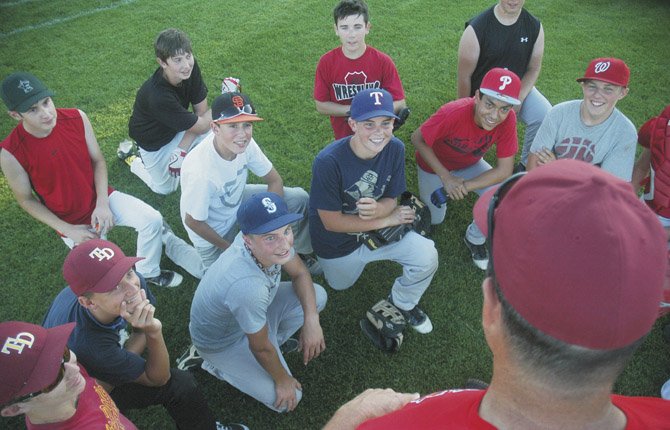 With players from all over the gorge, Coach Justesen hopes to find successful recipe
Like a chemist in his laboratory, head coach Jeff Justesen has the task of blending and mixing his group of 14 players from five different areas across the gorge into a successful end product.
This team will get their opportunity to put it all together starting at 11 a.m. Tuesday during the 13U North Oregon Babe Ruth State Tournament in Baker City
"It really is a good group of kids," Justesen said. "We are bringing them together from lots of places, but they have bonded very well in such a short span. I think they have very good team chemistry. That is one of our strong points."
Another strong area Justesen plans to exploit is this team's speed. The options open considerably when he has quick players on the bases set up for the meat of the order.
Daniel Peters, Bailey Keever, Treve Martin, Jacob Justesen and Jose Gonzalez bring the fleet-footed advantage to the plate, and William Justesen, Blake Davis, Bradley Moe and Kolbe Bales bring the big bats for hits in the gaps.
"With this team, there is no area where we lack in," said Moe, from Arlington. "Whether it is bunting, hitting for power, our base running, pitching and catching we have great all-around talent here. Every aspect of this game that we need to master, we have guys who can do either one or more of those things."
Brody Woods, Spencer Honald, Court Strizich, Tylan Webster and Connor Uhalde add some depth in the field or the batter's box, as Justesen plans to juggle a few things around to get a better gauge of his team.
"We have 14 kids on this team who were the top players on their teams and now all of a sudden, some of them aren't going to be starting," Justesen said. "We need everyone here ready to play at any moment. I may need a bunt here or a stolen base, so there are different roles they will play."
From the first time he attended practice with his teammates, incoming Dufur freshman, Kolbe Bales, automatically felt this team would be solid.
He has a good feeling The Dalles can keep its season going. "We are going to have to compete and do good every day to compete with all of these teams," Bales said. "Our team is looking good right now. We all need to come together and hit the ball and pitch the ball good to come out on top."
Last year, The Dalles had their all-star campaign cut short by John Day River, but Peters, from The Dalles, is glad to have athletes from White Salmon, Wash., Hood River, Arlington, Sherman and Dufur in the dugout with him.
The defense is strong and Peters adds to a wealth of pitching.
There are at least five athletes who can be considered aces.
"We have some people who can throw pretty hard with consistent strikes," Peters said. "We also have some pitchers who can throw some junk like our relievers and our closer. I don't see many weak areas. With the way our defense plays, that is really good."
In order to keep the season alive for regional play in Washington, The Dalles has to finish in first or second place.
While unsure of the level of competition his squad will face, Justesen set a short-term goal of making it to Thursday.
"We have been working really hard all year to make this happen," Moe said. "Our team is really focused on the task at hand right now, making sure that we win state. We want to bring the trophy back here. If we can accomplish that, we will definitely be excited for regionals."
After Tuesday's 11 a.m. game versus Union County, The Dalles plays Mid-Willamette Valley.
Wednesday, TD has games scheduled for 8 and 11 a.m.
The championship rounds take place all-day Thursday.