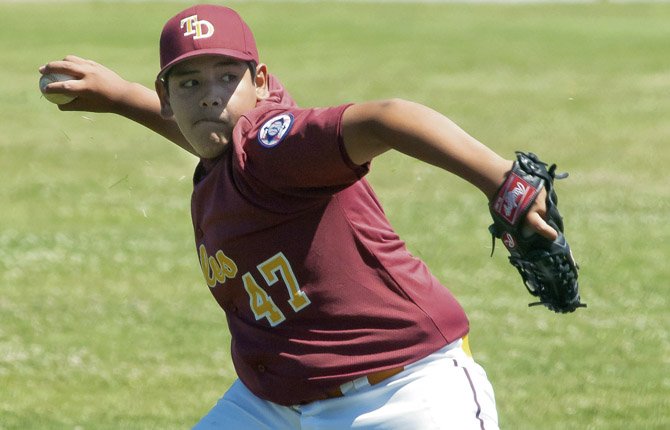 The Dalles — 14U All Stars are outscored 71-29 in four straight losses

In two days of state tournament play, The Dalles' 14U Babe Ruth baseball team lost four games and they were outscored by a 71-29 margin.
The All Star season concluded in a 10-4 loss to Union County Friday at Kramer Field in The Dalles, as Union broke open a 5-3 lead with two runs in the sixth inning and three more in the seventh. In their other three games, TD lost by scores of 23-7, 23-13 and 15-5.
Tyler Westin chalked it up to errors that sealed The Dalles' fate.
"We weren't on our game mentally on the field and that is what threw us off for the entire tournament," he said. "If we had our fielding down, then we would have had the tournament under our belts. At least three wins."
What makes it even more devastating is that this type of performance occurred in front of friends and family.
"In our hometown, to play like we did, is pretty disappointing," Westin said. "We live to play another day I guess. I mean it is just one tournament out of the 10 that we had this year, so it doesn't hurt that bad. But, yeah, it is disappointing."
Now that he has had a chance to assess things, TD's starting catcher, Denzel Arellano, is looking forward to his offseason.
His goals are to make it on The Dalles Wahtonka baseball team in 2014.
In order to make that leap, the work starts this summer.
From his final year in little league through in Babe Ruth, Arellano has seen improvements.
Now, he wants to build on that.
"I am going to put in time in the offseason to help some of my teammates a little bit," Arellano said. "I want to get myself a hitting coach and I want to play fall ball. I just want to get better for next year."
Tazman Moffett learned a lot from this experience and it revolves around staying mentally sharp and prepared in games.
He said it was a good season, but could have been better.
"All-in-all, we played some really good teams, some of them we could have beaten or at least stayed really close to," Moffett said. "I guess that's the way it goes. It doesn't work out sometimes."
The biggest thing for head coach Sean Herriges is he wants to let his team know that he cares for them.
They have enjoyed success in little league, junior baseball and Babe Ruth.
He is at a crossroads in his coaching career.
"Could definitely be my final game," Herriges said. "I just want to be heard when I am coaching. If the kids don't hear it anymore, then it is time for me to move on and I need to see that. I will always be there for them. I am always a phone call today. That part of it will never go away."