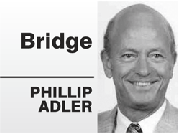 Mark Twain said, "A person who won't read has no advantage over one who can't read."
That can also apply to bridge. The player who does not pay any attention to the opening lead has no advantage over the player who sees it but fails to work out what information it imparts.
Sometimes declarer can work out what to do just by analyzing the opening lead.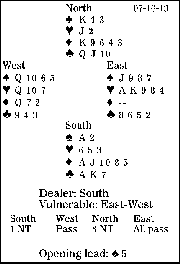 In this example, how should South play in three no-trump after West leads a fourth-highest spade five?
This is surely the most common two-bid auction. It is true that on this deal, three no-trump can be defeated if West is inspired enough to lead a heart, and five diamonds can always be made with a good guess in the trump suit. But if you try to get to five of a minor with two balanced hands opposite each other, you will be a big loser in the long run. Go for the nine-trick game unless you are sure it cannot make.
South starts with seven top tricks: two spades, two diamonds and three clubs. And if the diamonds run, there is an overtrick waiting in the wings. But if the diamonds are 3-0, who has the tripleton?
Read West's lead. How many spades did he start with?
Since South can see the two, three and four, West must have led from exactly a four-card suit. And if he is void in diamonds, he must have at least five hearts or five clubs and surely would have led from that suit — length rules in no-trump. So only East can be void in diamonds.
Declarer should take the first trick and cash the diamond ace.