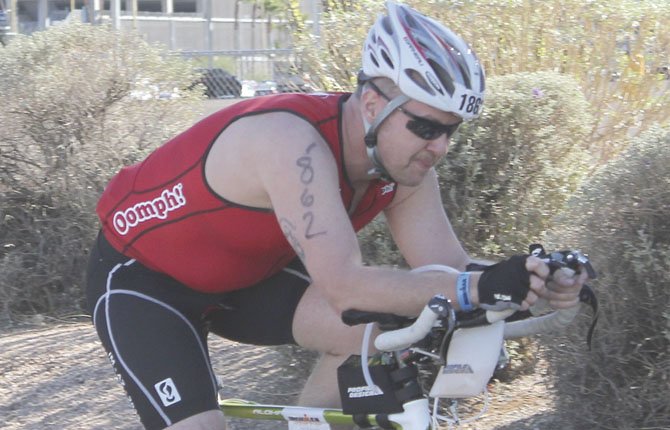 Once he finished Ironman Arizona, in Tempe, Christopher Alfson shared a warm embrace with his support system – his mother, father, siblings and friends – this group had been with him every step of the way while he overcame long odds and adversity to accomplish a pivotal life goal.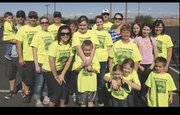 With a group of 19 cheering him on, Alfson's strongest supporter, his mother, Dee, commemorated this feat with a medal presentation.
She had been there by her son's side through a debilitating bout of meningitis encephalitis that left him bed-ridden and near death.
It all came to head at the finish line.
"She was standing there and I could see her crying," Christopher said. "You can't help but cry when you see someone else crying. Her standing there and putting the medal over me, it was emotional. Besides my dad, I don't know if there was anybody else that I would rather have put that medal over my neck."
This triathlon is no easy feat for the faint at heart.
Participants start with a 2.4-mile swim, and then engage in a 112-mile bike ride and before capping things on a 26.2-mile run.
The more than 2,980 participants had time limits on their finishes under harsh conditions.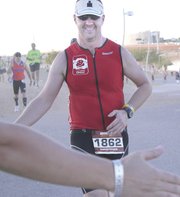 Once Alfson crossed the finish line, his time read 15 hours 35 minutes.
It was quite an accomplishment for the Vancouver, Wash. native and, now 41, as survival was the biggest thing at one point in his life back in 2001.
After a flight to Brea, California, Christopher fell ill and ended up hospitalized with seizures.
Initially, doctors diagnosed the 1990 The Dalles High School graduate with an adult onset of epilepsy.

The next month, things went from bad to worse.
He had several ambulance rides to the hospital because he continued to have the seizures.

Eventually after being admitted to Providence Hospital in Portland, doctors spent two weeks trying to diagnose the problem – It was not epilepsy, but the Partial Complex seizures continued.
"They were the paralyzing kind and started in the left leg and traveled up his body to his head," Dee said. "At first, they lasted for just a few minutes, but eventually they were lasting for a couple of hours."

As the stronghold in the Alfson family, Terry, Christopher's father, said he felt helpless. He wanted the seizures and the pain to stop, but had no control over matters.
"I remember standing by Chris' side talking softly and rubbing his forehead, his arm, or anywhere just not to leave his side," Terry said. "The most vivid memory that keeps coming back to me was after helping him get situated in the (Chevy) Suburban at the airport from his return trip from California, I cried, more than once. Nothing needed to be said, but I cried."

A team of infectious disease doctors and neurologists checked out Christopher, running numerous tests.
On one trip to Mid-Columbia Medical Center, in The Dalles, doctors found something.
Christopher could barely maintain his balance, struggled with his eyesight and could hardly speak.
Memory of this entire ordeal is minimal, but Dee still feels the pain of watching her son go through those struggles.
"It was absolutely the scariest thing that a parent prays they never have to go through," Dee said. "Seeing your son in such a state where you can't heal them was debilitating."
A long road to recovery
Over the next six months, Christopher began a two-to-three-time a week rehabilitation phase.

He exercised as much as he could at home in an effort to gain mobility back. He forgot how to walk.
The rehabilitation goal involved just getting the limbs back working again.
"It was a struggle to lift my arms. I could not do the walking motion," Christopher detailed. "Something just broke when I was sick."
He went from not walking to using a wheelchair then a walker.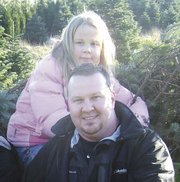 Christopher admitted to tremendous frustration through the process, thinking life would forever be changed.
Doctors administered seizure medications and Christopher went through three years of neurology checkups and DMV checkups just to get his driver's license renewed.
"I was in such a cloud," he said. "It was as if my head was under water. It lasted for so long. I did not feel right. The amount of medication they had me on once I was out of the hospital took its toll on me. All the after effects also get you down pretty much."
The road to recovery was a long and arduous process, affecting family and quality of life.
At one point, Christopher had his weight balloon to nearly 250 pounds, his waistline bulged to a size 38 pant and he dealt with anxiety issues.
In 2009, he went through a divorce of his high school sweetheart.
Once again, Alfson had been thrown another life curveball.
"It was more devastating to me because I did not see it coming," Christopher said. "It forced me to evaluate who I am a little bit and what I did wrong. It was extremely painful like I was cut and it did not heal. Working out was the only thing that kept me sane during the divorce."
The Ironman brainchild
With his early workouts, Alfson dropped his weight down and his endurance improved rapidly.
He competed in the Aluminum Man race in The Dalles, but Ironman seemed far from a goal.
In 2012, he ran the idea of Ironman by his family and girlfriend, Heather.
Dee admitted that she was apprehensive when her son stated his Ironman plans.

"I knew how strenuous the training would be, but I supported his decision that this was something he needed to do," Dee said. "Chris has always felt that anything was possible and the example that he set for his daughters, Olivia (13) and Emma (9), was just that – Never give up on your dreams."
His girlfriend recalls conversations with Christopher on whether or not to run in the Ironman or the Half Ironman.
Two days later, Alfson threw his hat in the proverbial Ironman ring, the big one.
"From that moment on, he never looked back," Christopher's girlfriend said. "He took every day one-by-one. He talked to his children/family and received the support from them. Day-by-day, he became stronger and more confident as he was changing before our eyes."
Alfson made a call to a trainer Josh Winter to ease into full workout mode.
He was already swimming, biking and running, so he progressively added distance to those numbers.
By month one, Christopher would ride his bike for an hour, but as time went on, bike rides lasted three or sometimes five hours in duration. After that, Winter instructed Alfson to run for three hours.
At month seven, the workouts spanned to six days a week, where the longest distance run in one day was 18 miles. Workouts were more and more intense as the race drew closer.
Being in shape involved the physical elements, but more importantly, diet plays a pivotal role in success.
"Ironman taught me how to eat. You need to fuel your body for endurance," Alfson said. "If I am going to spend 15 and a half hours on an endurance event, I have to fuel my body to where I can withstand that. It taught me a lot about nutrition and fitness."
Looking back, when he was sick, Christopher had no idea he would be doing an Ironman.
From sickness to divorce and everything in between, so many things had Christopher motivated to prove it could be accomplished.
At different parts of the training, Alfson had everyone around offering words of encouragement.
In the Ironman, there are time limits and Alfson met those with some space.
He had to be out of the water in two hours and 10 minutes and Christopher crossed the line in 1:30.55.
In the bike session, he made it in less than seven hours, and then before the midnight hour, the running portion took place.
On the first of three laps, Alfson hit a time of eight minutes, far faster than the 10.5 he set, so the second lap became a struggle, as he walked for 75 percent.
"The run was awful," Christopher said. "I thought I would do well there. I ended up doing what is called the 'Ironman Shuffle,' not running, but moving. I did not want to stop. After 10-12-14 hours, once you stop, you can't get started again. You set little goals to try and get to the next checkpoints to keep yourself motivated and encouraged."
By lap three, Alfson consumed some water and chicken broth to get re-energized.
With the sodium kicking in, he thrust through and had enough juice in his system to finish.
His sister, Heather Runyon, has the 15:35.54 time emblazoned in her head.
She said it is a time the family will never forget.
"It was such an amazing event to witness and be a part of," Runyon said. "We are so glad we were able to be there to support and cheer him on through his entire experience and through the finish line all while having a smile on his face. He has come so far and has worked so hard in order to achieve something many of us can't even comprehend. It just blows us away that we almost lost him over 11 years ago and now he is an Ironman. It was such an emotional time for all of us and we cried tears of joy."
Tricia Hartley, another of Christopher's sisters made a surprise visit to cheer on her brother.
It was a remarkable achievement of intestinal fortitude in a grueling event, especially with all of the adversity he has faced.
"The last few years have tested Chris but he's always stayed positive and optimistic and pulled through," Hartley said. "I'm so proud of him and blessed to have him as my brother."
It was through Tara Donivan's friend, Travis Dray, that Christopher earned a chance to compete in the Ironman.
He was given a free ticket to enter, ordinarily a $650 fee.
Just experiencing the momentum with her brother was both emotional and amazing to her.
"Watching the excitement in Chris' face the day before is something I will never forget," Tara Donivan said. "When he crossed that finish line, I burst into tears of joy knowing that he had done it. Chris is such an inspiration to my family and me. Words can't express how proud I am of him."

Looking back, Alfson said he would jump at the chance at competing in the Ironman once again.
He will wait however, until his girls are a bit older to compete again.
The training took away a lot of quality time.
"There was a lot of time that I missed out with them," Christopher said. "I will definitely do it again and I hope that one of them does it with me."
Through this time in his life, Alfson's daughters have motivated him to live life with zest and zeal.
He is healthier and happier.
Maybe this high point will instill in his daughters that anything can be done if a person puts their heart and soul into it.
"To have my girls see me accomplish something so significant was the icing on the cake," Alfson said. "Having my family there and being able to cross the finish line is what kept me going. I mean there was a part of my life where I couldn't walk, I couldn't raise my arms, and so to cross the finish line and complete something so significant was simply amazing."
Through this event, Christopher Alfson raised money for Doernbecher Children's Hospital in Portland and ran in their honor.
Check out the donation page with comments at www.firstgiving.com/fundraiser/azironman/arizonaironman.