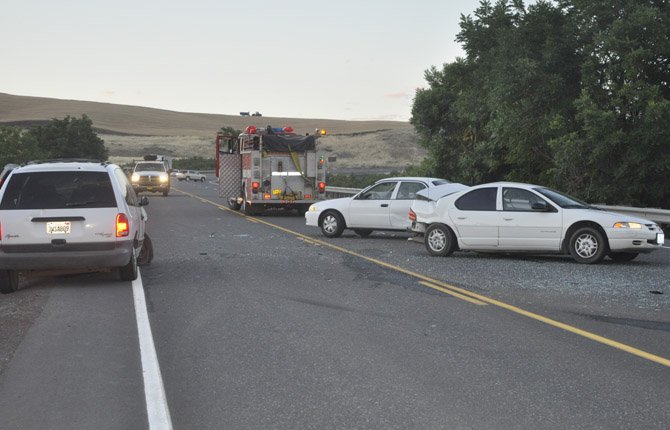 Six people were transported to Mid-Columbia Medical Center early this morning following a three-car crash that blocked Highway 197 this morning for a little more than an hour.
The collision, which occurred around 4:48 a.m., involved three vehicles carrying workers to the Omeg Family Orchards. Two of the vehicles, a white Toyota Corolla, followed by a white Dodge Stratus, were southbound on the highway, waiting to turn left into an orchard access road, said Trooper Michael Holloran of the Oregon State Police.
Another vehicle that did not stop at the scene, was also in the turn lane, then moved into the right lane at the last minute, witnesses told Holloran, and the driver of the third vehicle, a Plymouth Van, said he was not able to see the stopped vehicles.
"Either way, he was probably following too close, didn't get stopped in time and rear-ended the white Dodge Stratus," Holloran said.
The Stratus, in turn, rear-ended the Corolla.
The drivers and passengers in the three vehicles all reported wearing safety belts. All the occupants in the front car were not injured, but all five men in the Stratus, the second car, were transported to the hospital reporting pain and dizziness.
The right-hand passenger in the middle seat of the van was reportedly leaning forward to pick up his work identification card and had his seatbelt loose enough that he hit his head on the seat in front of him, sustaining a forehead laceration and a possible broken bone.
All six of the transported men were released before 10 a.m. this morning.
Mid-Columbia Fire and Rescue transported most of the men, while Klickitat Valley Hospital's ambulance transported the man from the van.
The driver of the van, Omar Diaz Cruz, of Stockton, Calif., was cited for lack of a valid operator's license and following too close.
Oregon Department of Transportation and Steve's Chevron assisted with traffic control and clearing cars and broken glass from the scene.