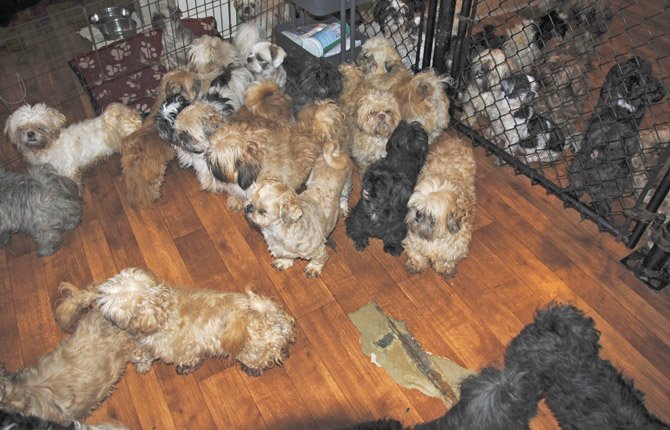 A group of Shar Pei dogs rescued last month are starting to find homes, but a second rescue has brought a new batch of dogs for Home at Last Humane Society to contend with.
A rural pet owner surrendered a total of 49 dogs in the last month. Oregon Humane Society has taken 25 and Home at Last Humane Society has the rest.
"The first time we went in there it was so crazy, we counted numerous times to get an accurate count," said Home at Last operations manager Gale Simpson.
She said the owner, a Shih Tzu breeder who admitted to getting overwhelmed when they couldn't sell the dogs fast enough, is not facing criminal charges and has been allowed to keep up to 20 dogs from now on.
Kris Boler, executive director for the shelter, said in contrast with the Shar Pei rescue where criminal charges were filed, the dogs' health was "not too bad."
"It's not great but it's not horrendous," she said.
But the owner agreed to surrender more than half the dogs after a welfare check by a sheriff's deputy who determined the dogs' living conditions had gotten out of hand. Boler said Oregon Administrative Rules don't dictate a limit on the number of dogs a person can have but do dictate certain levels of care — dogs' cages must have enough room to stand up and turn around
in, and kennels can't be stacked on top of each other, for example.
Simpson said the Shih Tzu owner had surrendered 46 dogs back in 2009 and so this time is being asked to participate in a welfare check once a month by law enforcement making sure there are no more than 20 animals in the home.
"You can't go in full-bore right away," she said of the owner being given another chance. "You have to go through these steps first."
The Shih Tzus will be up for adoption soon, but need to be monitored, socialized and taken care of medically before they are ready to find a new home.
In the meantime, there are more Shar Peis still waiting to find a new family and others that the staff are still working on helping relax around people.
"It's been a lot of time just sitting in the kennel with them, and lots of love," Boler said.
"We want to set them up to succeed," Simpson added.