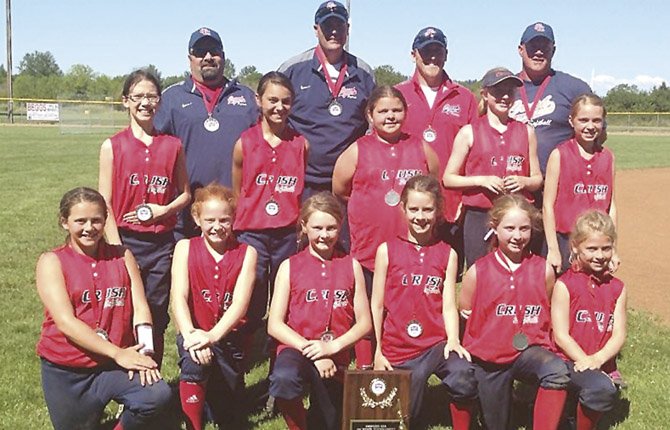 Head coach Leroy Tharp compared this 10U Cherry City Crush state performance to the movie, "Hoosiers."
The Crush came back from an early loss to win three games in a row to earn a spot in the championship game against the Reynolds Rainbows, losing 5-2 to chalk up second place in the 18-team field.
It was one of the best finishes by the 10U program in recent memory.
With such a young group, Tharp admired the guts they showed, especially given the fact that they played four games on Sunday under hot conditions.
"They played their hearts out and refused to lose. They wanted to keep playing," Coach Tharp said. "It brings a tear to my eye just how proud of them I am. Words cannot express how well they performed."
After starting tourney play with two consecutive wins over Forest Grove and Wilsonville, the Crush lost 5-0 to St. Helens to move into the loser's bracket and a long road of games Sunday for the chance to punch a finals ticket.
The Crush came out with a 6-2 victory over Grants Pass in their early game and added another 6-2 win over Eagle Point, as Kilee Hoylman tossed a complete-game, one-hitter with 12 strikeouts.
Kylan McCavic and Maddie Tharp drove in two runs apiece to lead the offensive charge.
With that win, the Crush had a semifinals date with old rivals, St. Helens.
Instead of a shutout loss, the Crush came out with their largest offensive display and had to sweat things out late before pulling out the nail biter.
Hoylman had tossed four innings and struck out four, but left with a lead and handed the ball off to top reliever, Mikayla Kelly.
She allowed two runs, but her defense came through again with clutch plays to stop a late St. Helens rally.
On a ball hit to the hole between short and third base, Emma Smith scooped a ground ball and fired a strike to an out-stretched Tharp at first base for the second out.
St. Helens then added a hit, a walk and an error to put the tying runs on base against Kelly.
Kelly buckled down and induced the game-ending popout to third base for the final out and a save.
Schatz and Ford each reached base three times in the game and combined to score three of the seven runs.
Emma Smith rounded out the statistical leaders by going 2 for 3 with three RBIs.
In the title game, Hoylman tossed a complete-game with seven strikeouts, including the first five batters she faced in the Crush's season-ending 5-2 loss to the Reynolds Rainbows.
Hoylman and Kelly had two hits each and Ford added an RBI, and Schatz had a walk and a run scored.
"We considered the championship game a bonus," Coach Tharp said. "You could just see them out there, out of gas, but giving everything they had."
Throughout the tournament, Hoylman was in a groove, as she finished with 64 strikeouts in 38 innings pitched.
Aside from the pitching efforts by Hoylman and Kelly, Coach Tharp highlighted the defensive plays of outfielders Alyse Wentz, Emma Bartlett, Grace Schatz, Zoe LeBreton and Savannah Ford.
Rochelle Tilton caught every game of the tournament, seven in all, and found ways to throw out base stealers and make the spectacular diving plays.
Maddie Tharp, Kylan McCavic and Ford added top plays in the infield to lead the Crush to a title game berth.
"Kilee was incredible," Coach Tharp added. "Our girls defensively were solid. They made plays that would make high school teams look pretty bad. Every girl pitched in and was backing up plays and supporting each other. It was an incredible weekend."
Not a bad building block for a team progressively improved from their opening tournament until the final pitch in Hillsboro.
Coach Tharp laughed when thinking back of what his assistant coach Roger Hoylman said of his preseason expectations.
"He had a goal to place at state. I looked at him like, OK, but he was right," said Coach Tharp. "This team should be very proud of their accomplishments. I think it was just a tremendous job of the coaching staff getting these girls to believe in themselves and giving them confidence."
In all, the Crush placed or won every tournament in 2013.
Tharp said this group bought in and never let anything get them down.
Through hard work, tough practices and learning the game, this team grew together at a pivotal stage in their softball careers.
"It is a testament to them being coachable and a testament to their parents for letting them be coachable and buying in to what the coaching staffs philosophies were," Coach Tharp said. "The results were awesome. If they keep that same mentality, the sky is the limit. (This outcome) will encourage hard work in the offseason to improve their game. We will see what happens next year, but I am excited to get back out there."
For more information on the Crush teams, go to www.cherrycitycrush.com or call 541-993-1799.