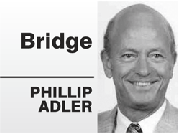 Today is a particular milestone for me. I have been writing this column for just over 22 years and this is my 7,000th.
Please permit me to show you one of my favorite deals. It occurred in 1968 while I was in high school, playing in a duplicate at the Newport Bridge Club in Monmouthshire, England (now Gwent, Wales). I was partnering with one of our school bridge team, Tony Disley.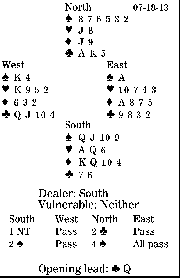 I opened one no-trump, showing 12-14 points. (Yes, this was a slight underbid; it would have been reasonable to call this a 15-point hand.) Since we were not using transfer bids, Disley employed Stayman, then optimistically raised two spades to four spades. (Of course, if he had invited with three spades, I would have gone on to game.)
West led the club queen. How did I plan the play?
With three top losers, at first glance, I needed the heart finesse to win. But then I saw a much better line. I won the first trick on the board and called for the diamond jack. East rushed in with the ace and returned a club (not that it mattered).
I won on the board, played a diamond to my king, and led the spade queen. Now West erred by playing her king. East groaned while winning with her ace and led another club, but I ruffed, drew the missing trump, and claimed an overtrick. Dummy's heart loser went on my diamond queen.
Afterward, I looked at the other results. At every table, North made two spades with only one overtrick. Perhaps all of the Easts led a heart at trick one, but I doubt it.