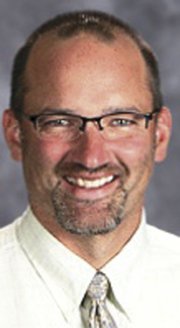 When Brian Schimel showed up at Mosier Community Schools for a job interview, he knew he had found a place he wanted to work.
"I loved the feel of the school and I loved the energy and the positive vibe," he said.
Luckily for him, he got the job. Schimel began his position July 8 as the new executive director of Mosier Community Schools in the wake of previous director Carole Schmidt's retirement.
Schimel brings with him 21 years of educational experience, most recently as principal of Highland Hills Elementary School in Hermiston. He has worked as an administrator at the elementary, middle and high school levels and taught classes ranging from physical education to math.
He said the outdoor recreation and proximity to family in Portland attracted him to Mosier. He also likes the idea of overseeing a charter school.
"One of the attractions for me is as long as you are producing great results, excellent test scores, excellent students, then the requirements are not as strict. It allows for more creativity, and I like the creative aspect," he said.
Schimel had only been on the job for a day and a half when he spoke with The Chronicle Tuesday and said he was still in "exploration mode," but he has already talked to several board members and staff members. He said he was working on a staff survey and hoped to hear from parents as well.
"I'm collecting as much data and information as I can," he said. "I do have a lot of ideas; however, the intelligent way is to make sure I've built capacity with board members and staff before I make any major changes."
Schimel said he is aware that he is inheriting some controversy that has gone on between board members, administrators and parents, but is still "learning the local environment" and hasn't delved into those conflicts enough to comment on them yet. However, that doesn't mean that he plans to ignore them.
"If there's some issues that need to be solved, let's tackle it head on," he said.
He said he is looking forward to the first day of school, when he can start enjoying face-to-face interactions with students. He said administrative work is important but the best part of any job in education is interacting with students.
Until those students walk through the door in September, however, he has plenty of work to do. That includes trying to talk to as many staff members, board members, parents and students as possible so that Schimel has a good idea of what the schools' stakeholders want.
"I'm very excited to be in Mosier, very proud, very lucky, and the fact that this is a charter school makes it even more exciting to me because it gives us some options that they may not have in other schools," he said.