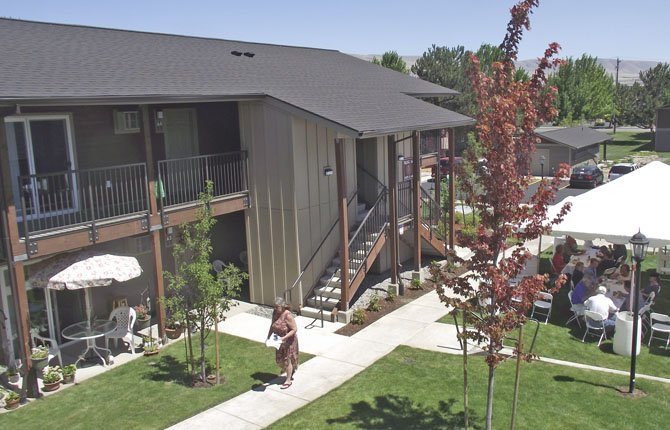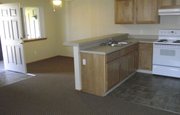 Guardian Real Estate Services officials and their invited guests celebrated the post-renovation grand re-opening of Sunrise Estates in west The Dalles July 11 with a dedication ceremony and a luncheon.
Sunrise Estates, including 60 apartments, was built in 1977 by local business and civic leaders Ray and Gloria Schultens. It was partially funded with a USDA Rural Development loan, and operated under a contract providing housing assistance to 47 very low-income households.
Daniel J. Steffey, senior vice president of development for Guardian, praised the Schultens family for their community concern and noted that in rehabilitating Sunrise Estates, the desire was that the facility echoed the character of the community.
"We have original art by [regional artist] Lillian Pitt and our community room features historic photos of The Dalles from the 1800s and early 1900s.
The largest share of the apartment complex's $12.1 million rehabilitation project was financed by Oregon Housing and Community Services low-income housing tax credits and WNC, which purchased the tax credits as a limited partner. First Republic Bank and Rural Development also helped finance the project. The money paid for renovation of the 60 apartments and the addition of 20 more, bringing the total number of apartments to 14 one-bedrooms, 56 two-bedrooms, and 10 three-bedrooms.
Other improvements include landscaping, siding replacement, new kitchen finishes, new flooring, ADA upgrades, new windows and doors, energy-efficient appliances, new fixtures and new roofing. New community amenities were also added, including a community building, where lunch was served, a playground, garden beds, laundry facilities, on-site management and washer-dryer hookups.
These 80 homes in a market the size of The Dalles would be equivalent to adding 3,500 new affordable homes in Portland, Guarding statistics suggest. The project provided an estimated 55 jobs in fields like architecture and construction. Myhre Group Architects designed the renovation and LMC Construction was the general contractor.
"We asked them to pay attention to issues of social equity and include minority vendors in the construction project," Steffey said. "Normally, it's difficult to get more than 20 percent. They hit over 43 percent."
Guardian has produced or preserved more than 2,000 units of affordable housing in the Pacific Northwest," said Thomas B. Brenneke, president of Guardian Real Estate Services.
"We're big believers in preservation," he said. "It's been our mission as an organization and we believe in taking good care of what we have."
The project took six years to put together and saw a number of delays and stumbling blocks along the way, particularly when one bank dropped their financing late in the game.
"First Republic, they are our heroes," Brenneke said.
The difficulties were worth it in the end, said Vicki Walker, state director of USDA Rural Development.
"I'm seeing local businesses, financial institutions, state and federal partners can work together to support the community," Walker said. "The Dalles can have affordable house, so the overall community can grow and thrive.
"Sustainable economic prosperity in a community is like a three-legged stool," she added. "[It needs] opportunity — jobs — and infrastructure. And you also have to have a good supply of affordable housing to give people a place to live and call home."
Rural Development's objective is to help improve the living conditions in small rural communities, Walker said, adding that only five places in Oregon are not considered rural.
Mayor Steve Lawrence also praised the project.
"It does a couple of things I think are important in every rural community," Lawrence said. "It utilizes the space you have. There's a lot of talk sometimes about pushing out into the urban growth boundary, but we have a lot of space within our boundaries and we need to utilize that in the best way."
Lawrence said the project's partners showed vision, persistence and collaboration.
Sunrise Estates resident Lynnette DeMoss said the affordable housing allowed her to raise her two boys while her husband worked. She praised the facilities offered as a result of the renovation.
"The boys' personal favorite is the new play structure," DeMoss said, "but I'm more interested in what's inside."
Residents were relocated for about two weeks while Sunrise Estates underwent construction.
Resident Janice had high praise for the project contractors
"LMC company was absolutely awesome," she said. "All the workers were friendly. They never got out of place. They did a wonderful job. They made me feel at home at all times."
She praised the beauty of the apartment complex since its renovation. She said the improvements make her want to be "respectful of her home and thankful for living here."