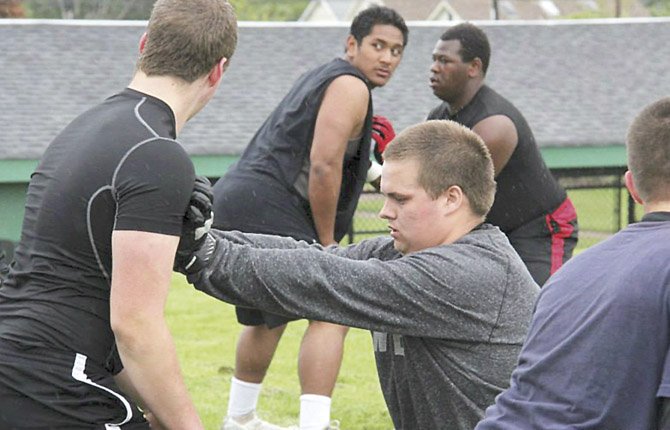 While the skill football players are getting their feet wet at 7-on-7 passing scrimmages, the big boys in the trenches are hard at work as well in specialized camps.
This past weekend, July 12-14, The Dalles Wahtonka High School football players, seniors Connor Shortt, Mike Pifer and Kauone Sefo, and freshman Job Brown attended the 2013 Trench Camp at Lewis and Clark College in Southwest Portland.
Along with those four, there were 120 of the top offensive and defensive linemen in the West spanning Oregon, Washington, Idaho, Montana, California, British Columbia, Arizona and Texas.
"These four players have been working hard in the weight room and the conditioning since we came back from team camp at Linfield," said TDW assistant coach Jim Taylor. "This camp helped their technique so much. All four of them get off the ball so much faster, their pad level is lower than their opponents, and their technique is getting better every day."
The camp was three days and had eight ex-NFL players, including Stan Brock, Steve Emtman, Gary Zimmerman and Mau Tuiasosopo and other coaches instructing the players on line play.

Over the course of those four days, each morning kicked off with drills that were instructed by the NFL players, and then the players came together and practiced these skills against other lineman.

After an hour and a half of offense, the players switched to defense and did the same program, skills and one-on-one versus other players.

In the process, they worked run techniques in the morning and both pass blocking and pass rushing in the afternoon.

"Mike Pifer had a great camp offensively," Taylor said. "He went up against some of the top pass rushers in 6A and stayed right with them."

In addition to Pifer's excellence, Taylor added that four different NFL players called out Sefo on his proper technique, hustle and effort.
With an emphasis on sharpening up some skills for the grueling 2013 campaign, Taylor said head coach Steve Sugg wanted the linemen to attend this camp to get them some extra work at a high level.
Technique is just one aspect of things, but the players get to practice that technique against a higher caliber of competition.
"Job Brown, an incoming freshman, improved the speed he got off the ball and keeping his pad level down," Taylor added. "Connor Shortt had a strong performance with his pass rush and did a great job of pass blocking."
This camp also helped the players see that the drills executed at TDW practices are the same done by NFL players daily.
As with any experience, the Tribe quartet enjoyed learning from professionals and they enjoyed their success against such high-caliber of competition – they also learned from their mistakes.

Through one-on-one time, NFL coaches would talk to each player after every single session to describe what they did right and what they still need to work on.
"It was a great learning experience and great confidence building for our players," Taylor said. "The players were not sure at first, but they really enjoyed the camp. They realized they were just as good as anyone in the state. They can compete and win at a high level."
For more information on the lineman camp, go to www.trenchcamp.com.
There is still time to join TDW's football program. If assistance is needed, Friends of Football has offered scholarship opportunities for athletes who need financial assistance to play. Call 541-993-0216 for more information.