All I need to make a comedy is a park, a policeman and a pretty girl.
— Charlie Chaplin
(It's National
Parks and
Recreation Month)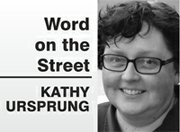 Thank goodness for A/C repair people: July is National Air Conditioning Repair Month and our family found cause to appreciate the repair people who get buried in calls during the first real hot spell each year.
When our air conditioner refused to blow on the first day of the last big hot spell, Oregon Equipment told us they'd had more than 200 people call in the same boat. Fortunately, we had an auxiliary unit that worked in a pinch, so we told them to go ahead and take care of the other 200 people first. When they did arrive, they were timely and had our unit fixed within an hour.
We've had good service from all the heating and air conditioning companies here in The Dalles in the past. They work hardest in the hottest (and coldest) weather and all seem to understand how vital their services are to our wellbeing.
Even though our unit was working well until it wasn't, these seasonal problems are a good reminder to make sure the equipment we depend on is in good working order, timely maintenance is performed and that filters are changed at the recommended intervals to avoid unnecessary outages.
Calling contractors: The Oregon Construction Contractors Board (CCB) is coming to The Dalles Thursday, July 18, to hear from local folks about potential changes in the law and get ideas for service improvement, and put on a workshop for those interested in becoming licensed contractors.
Officials will be at the Columbia Gorge Community College Building 2 lecture hall to gather public input from 9:30 to 11:30 a.m. Topics include financial accountability, continuing education, compliance, automation, licensing categories and more.
Then, from 1 to 3 p.m., the CCB workshop will educate prospective contractors concerning how to get licensed. Industry professionals will be on hand to answer questions about pre-licensure courses and what to expect in education and testing. There will also be a question-and-answer session. Staff will also be available to provide help filling out the Contractor license application. Both events are free and registration is not required.
Habitat at 20: The Dalles Area Habitat for Humanity is celebrating its 20th anniversary this year and the Habitat ReStore has picked this Friday and Saturday, July 19 and 20, for a special thank-you celebration — and, yes, sales are involved. Habitat in The Dalles recently broke ground on its 19th home, yet another opportunity to offer a "hand up" to a local family in need.
Downtown projects: Dan Durow, special projects coordinator for the City of The Dalles is the guest at the July 18 meeting of The Dalles Area Chamber of Commerce Government Affairs, 7 a.m. at The Barbecue. He'll talk about the Granada block and other ongoing projects.