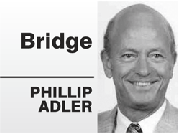 Lea Michele, an actress and singer, said, "I didn't know I could sing until I auditioned for 'Les Miserables.' My friend was auditioning, and I wanted to audition too."
Many bridge players would find out that the game isn't as hard as they thought if they spent longer auditioning every auction, asking themselves what each call means.
In today's deal, how should South plan the play in four spades? West leads the diamond ace, continues with the diamond king (East dropping the queen), and follows with the diamond jack.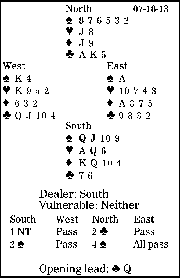 When North entered the auction following an opposing pre-empt, he assumed that his partner had six or seven points. Here, South had slightly more than that, so jumped to three spades. It was borderline, but he was assured of at least an eight-card fit and had three working honors.
Note also East's play at trick one. If he had dropped the queen under his partner's ace, that would have shown either a singleton or the queen and the jack.
The bidding marks West with six diamonds and East with two. So if South ruffs the third diamond low in the dummy, surely East will overruff. And then declarer will also lose a club trick. Similarly, if South ruffs the third diamond high with dummy's spade king, he will lose two diamonds, one spade and one club.
Instead, declarer should discard dummy's automatic club loser. He wins the next trick (perhaps overruffing East if West perseveres with a fourth round of diamonds), draws trumps, and takes a safe club ruff in the dummy. His 10 tricks are five spades, two hearts, two clubs and the club ruff.