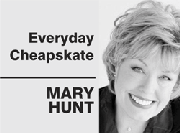 DEAR MARY: My wife and I inherited a small printing business 40 years ago and have run it successfully ever since. We've had our ups and downs over the years, but we continue to survive. Now we need to upgrade our equipment to remain competitive. With supplies, training and shipping, the digital production press we need will cost about $20,000.
The problem is that we do not have that amount of money to buy the press. Our credit seems to be holding us back from getting a loan. We are confident that with the increased business the press will generate, we can pay it back, in the same way we have paid for all of our other machines and equipment.
Is there any lender you know of who will consider our 40 years of success and the potential we have for increasing our business?
Thank you, and God bless all that you do to help others. — Jack P., Pennsylvania
DEAR JACK: Your situation may be ideal for funding through Lending Club (LendingClub.com), a peer-to-peer network that was founded in 2007. Peer-to-peer (P2P) lending is fairly new to the world of personal finance. Think of it as cutting out the banks, because that is exactly what it does.
In P2P lending, ordinary people like you and me lend money to other ordinary people. This cuts the banks out of the equation, resulting in lower rates for creditworthy borrowers and better rates of interest for savvy investors than any of us can get these days at banks or credit unions.
At the Lending Club, potential borrowers fill out a loan application and submit it online. A committee looks at the application and applicants' credit reports. If approved, the committee determines the fixed rate of interest that you will pay. Then your loan is posted for funding.
As an investor, I can go online and agree to participate in funding your loan. Let's say that I have $50 to deposit into my account at Lending Club. I can choose to "lend" all of it to help fund one borrower's loan, or I can divvy it up (diversify) the amount to a number of different borrowers. I choose what rate of interest I want to earn, which correlates directly to the amount of risk I'm willing to take. The riskier the borrower, the greater the interest rate available to investors.
Should you be approved for funding, it's likely that hundreds of Lending Club investors will fund your loan in small increments, like $20 each. That way investors can fund many loans with small amounts rather than putting all of their eggs into one basket.
Amazingly, Lending Club, which is fully FDIC-insured and regulated by the same federal laws that regulate U.S. banks, funds more than $100 million in loans every month — far more than its closest P2P competitor, Prosper.com.
To demonstrate how much I like the idea of peer-to-peer lending, I'll make you an offer: If you apply for a loan to buy that new piece of equipment — and your loan is approved for funding — I will personally be one of the investors that helps you to upgrade your business.
When your loan appears for funding on LendingClub.com, send me a note, and I will invest in it. Good luck, and I'll be watching my mailbox.
Do you have a question for Mary? Email her at mary@everydaycheapskate.com, or write to Everyday Cheapskate, P.O. Box 2099, Cypress, CA 90630.
Mary Hunt is founder of www.DebtProofLiving.com.
To find out more about Mary and read her past columns, please visit the Creators Syndicate Web page at www.creators.com.