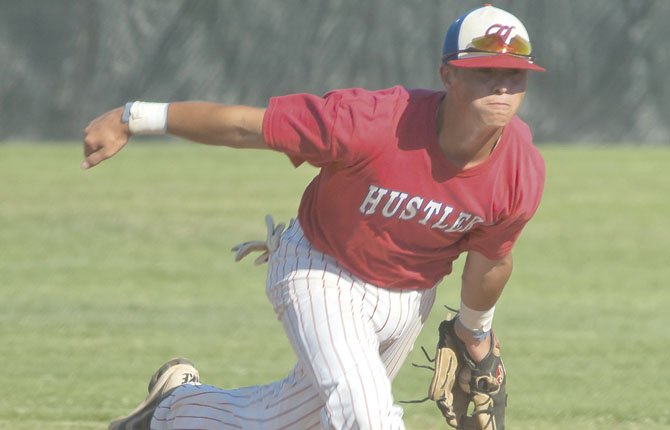 Coming off a 2-1 record over the weekend at the Wilsonville Tournament, the Columbia Gorge 'AAA' Hustlers put forth one of their largest scoring outputs of the summer in a 19-6 trouncing of Redmond in American Legion Post 19 baseball action Wednesday afternoon at Quinton Street Ballpark.
In this matchup, Redmond looked like the team on its way to a lopsided win after a four-run first inning off Hustler starter Dakota Walker.
However, Walker settled down and teammates answered the call with one in the first inning, 11 in the second and three more in the third frame to swell the lead up to 16-4.
All told, the Hustlers rapped out four hits and seven walks to do their damage.
Clay Copper started the decisive frame by hitting his first home run of the summer to move his team to within a 4-2 deficit.
One out later, Austin Wilson walked, Justin Sugg singled and Lucas Denney walked to load the bases with two outs for Nick Weekly.
On a 1-0 pitch, Weekly rifled a bases-clearing triple to give CG its first lead of the contest at 5-4.
Beaux Watt and Steven Bartells then followed with back-to-back two-out walks to load the bases for Copper.
The catcher worked an RBI walk to run the count up to 6-4, and then Walker and Wilson were issued RBI free passes to make it 8-4.
Sugg drove in two runs and he later scored on an error, and the Hustlers were way out in front, 12-4.
In the third inning, the Hustlers scored four runs to make the cushion, 16-4, as Sugg capped the four-run barrage with a two-out single.
Walker retired Redmond in order in the fourth, and teammates Watt and Denney finished the final three frames by combining for five strikeouts and two walks and two runs allowed to close the deal.
Weekly paced the Hustler offense by going 3 for 4 with two runs and four RBIs. Sugg added a 3 for 6 split with two runs and three RBIs, and Wilson went 1 for 1 with four walks, three runs scored and an RBI.
Bartells, Watt, Walker and Denney scored two runs each and Copper finished his day with a 1 for 3 effort with a home run, two runs scored and three RBIs.
Saturday, at the Wilsonville Tournament, the Hustlers secured a 12-8 decision over Columbia River, as Connor Mathisen, Sugg and Denney rattled off a combined 9-13 hitting clinic with seven runs and six RBIs.
Denney finished a triple shy of a cycle and Sugg had three-quarters of his cycle run in three at-bats, but wound up with a flyouts in his final two attempts to finish a home run shy of accomplishing that feat.
Walker picked up the win on the mound for the Hustlers, who scored in every inning, including four runs in the first and three in the second frame.
After that game, the Hustlers could not find enough in the offensive tank against Canby, as they settled for a 12-2 loss.
On Sunday, they rebounded for an 11-0 mercy-ruled win over Langdon Farms, as Mathisen tossed a complete-game, two-hitter with nine strikeouts to post the win.
Both teams battled to a scoreless draw through the first two innings, but the Hustlers scored three runs in the third courtesy of a bases-clearing, three-run triple to move CG out in front, 3-0.
In the fourth inning, the Hustlers put five runs on the board and invoked the mercy rule with three runs on two hits in the fifth frame.
Dakota Walker drove in two with a triple and Mathisen later tacked another RBI triple to cap the scoring.
Mathisen went 1 for 4 with two runs and three RBIs, and Denney, the No. 4 hitter, reeled off two doubles, a run and four RBIs.
Weekly had two hits, both Watt and Copper scored two runs. Jacob Quintanilla went 3 for 3 with two runs and an RBI.
The Hustlers hit the field again at 11 a.m. Saturday in a nine-inning game versus the Lobos. This was originally scheduled as a doubleheader starting at noon.
Radio station 1440 AM KODL will broadcast the game.