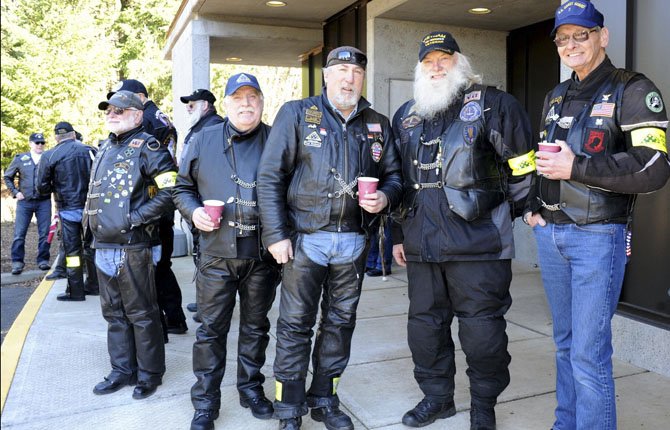 Local members of the Patriot Guard Riders are rolling into the Oregon Veterans' Home Saturday to pay their respects to residents.
Community members from The Dalles and surrounding towns are invited, on bike or on foot, to join the sixth annual meet and greet at the home, 700 Veterans Drive, from 11 a.m. to 4 p.m. on July 20.
"I never know who is going to show up, there is no sign up list, but I just tell people to arrive when they want and stay as long as they are inspired to do so," said Rod Runyon of The Dalles, the Northeast Oregon District ride captain. He said the gathering is intended to honor those who have served their nation. Newsreels of World War II and Korean War will be shown about 1:30 p.m. because most of the veterans in the home served during those eras.
The event has been organized during the Fort Dalles Days celebration in The Dalles because bikers coming from out of the area will be able to enjoy a variety of activities. And the gathering provides many local residents, said Runyon, with their first opportunity to tour the Vets' Home and meet the residents.
"It always amazes me that so many people from this area have never been there and this is a great time for them to come and see what it's all about," said Runyon. "I never get the turnout that I'd like to see but everyone who does come always has a great time."
Community members joining the Patriot Guard are invited to bring supplies needed by some of the residents. The most frequently requested items include: postage stamps, regular and diet soda pop, soft-boxed snacks such as those made by Little Debbie, microwave popcorn, non-alcoholic beer, wall clocks, sweat pants and sweat shirts for both men and women in larger sizes, new electric razors and generic Light 100's cigarettes.
The Patriot Guard formed in 2005 out of Mulvane, Kansas, to shelter the families of fallen warriors from the Westboro Baptist Church protesters. These individuals claim that the deaths of American troops in Iraq and Afghanistan are God's judgment for a nation that tolerates homosexuality. The protests include signs that say, among other things, "God is glad your son is dead" or "Thank God for IEDs (Improvised Explosive Devices)."
In 2006, PGR members positioned themselves to physically shield the family of fallen Navy Seal Marc Alan Lee, 28, from seeing protesters at his memorial service in Hood River. They also revved motorcycle engines and played bagpipes to drown out the protesters' chants that celebrated the death of the sailor who died during a combat mission in Iraq.
Although initially founded by motorcyclists, the organization is open to anyone who has a "deep respect for those who serve our country; military, firefighters or law enforcement." The motto of the Patriot Guard is "Standing for Those Who Stood for Us."
The group's primary missions are to escort the remains of fallen emergency responders during funerals, and form flag lines to honor them, such as the one set up at last week's memorial service for Allan Morrison, a Vietnam veteran with Agent Orange health problems who died July 2 at his home in The Dalles
Patriot Guard members also greet troops returning home from war and lined the Interstate 84 overpass in The Dalles to welcome soldiers assigned to The Dalles Armory home from Iraq in 2011. They attend pre-deployment ceremonies, visit injured warriors at military hospitals and attend other events as requested.
"We don't just show up, we have to be invited, because we don't want to step on anyone's toes," said Runyon. "We're not a club, we're just members of an association who respond to posts about missions and activities."
In 2012, members of the Patriot Guard were invited by the Gorge Heroes Club, a local troop-support group, to participate in an unusual event. They lined up at the intersection of 10th and Dry Hollow streets in The Dalles to wish Army veteran Kyle McCullough well on his almost 200-mile walk to the Oregon Coast.
McCullough, 28, began his journey in Dufur during the pre-dawn hours of May 5, 2012, and was escorted through The Dalles by bikers and pedestrians before heading off to Mosier. Patriot Guard riders kept track of him during the next eight days as he walked to raise public awareness about the need to support troops in the field.
In addition, he generated about $3,500 in donations for the Gorge Heroes Club, a nonprofit group that was sending care packages to his brother, USMC 1st Lt. Kristoffer Turf McCullough, at Camp Leatherneck in Afghanistan.
In 2011, the Patriot Guard welcomed soldiers from The Dalles Armory home by signing a flag in their honor during their fourth annual visitation at the Oregon Veterans' Home. The flag had been given to commanders of the 3rd Battalion, 116th Valvary Brigade Combat team prior to their 2010 deployment.
After being flown at Joint Base Balad, the flag was brought to the states by a soldier on leave and returned to Runyon during that year's Fourth of July parade in Hood River. Runyon decided to have community members sign the flag and then provide it to battalion leaders as a keepsake of the deployment.
For more information on Saturday's visitation, email Runyon at reckless.1@hotmail.com or call 541-993-6413.