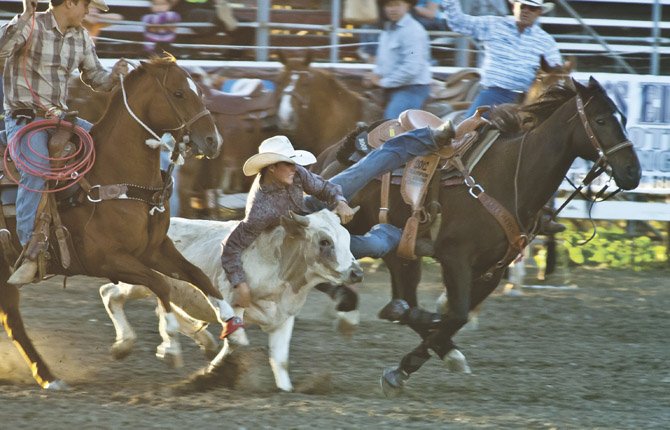 On Tap
Nightly ticket prices for the show are $12 for general admission and $15 for reserved seating.
Tonight is family night, and tickets go for $30.
Children aged 10-years old and younger are admitted free for the rest of the weekend.
From 5-7 p.m. tonight is the steak feed on the rodeo grounds.
Friday and Saturday are concert nights, with Barbwire Entertainment playing Friday, and Carrie Cunningham and the Six Shooters on Saturday.
Action kicks off at 7:30 p.m. for the rest of the week.
Fans that are "tough enough to wear pink" are encouraged to show up Friday to support the Susan G. Komen for the Cure Foundation and breast cancer awareness.
Tickets are available at the Chamber of Commerce and at the gates.
Call 541-296-2231 for more rodeo information.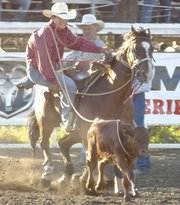 Through one day of competition, The Dalles' Greg Schaffeld soared into third place with a time of 15 seconds in the steer wrestling classification, as just five of the 14 participants put forth times in the 47th annual Fort Dalles Days "Rough and Wild" Rodeo Wednesday night at Milt Tumilson Arena in The Dalles.
Weiser, Idaho's Dave Maddox leads the steer wrestling pack with a time of 6.6, and Union's Will Hulden stands firmly in second place after his 8.0.
Casey Shafer (16.8) and Austin Woods (18.0) rounded out the timed runs.
More than 30 barrel racers duked it out Wednesday for a chance to gain an early edge and .37 seconds made the difference between first and 10th place in the standings.
Hermiston's Callahan Crossley and San Rosa's Jessie Jones were in a first place deadlock through one night with each timing out at 17.69.
Arlington's Sammi Lane (17.70), Caldwell, Idaho's Kortney McReynolds (17.79) and Hermiston's Ashlie Stanley (17.79) rounded out the top-5 overall.
On the local front, former The Dalles Wahtonka High School athlete Mattie Watt, representing Redmond, scored 12th place with a time of 18.11.
Watt enjoyed her second try in The Dalles, mostly because she had a chance to test her skills in front of a home crowd.
"Running at The Fort Dalles Days Rodeo is always my favorite," Watt said. "It's a fantastic rodeo and its nice because it is close enough for my friends to be able to come and watch and see what I do."
Hood River cowgirl Chantelle Carter had an 18.47 for 20th and Goldendale, Wash.'s Kacie Chambers churned out an 18.74.
Hood River's Jayden Shelton (19.4), Maupin's Ailee Aschoff (22.97) and Goldendale's Heather Beirele (23.35) all finished in the top 30.
Now that this rodeo try is complete, travel mates, Watt and Aschoff, next head to St. Helens Friday, then on to Sublimity Saturday morning and capping the night in Grande Ronde.
"It's a lot of fun to be traveling the rodeo trail with Ailee Rae. We have a great time," Watt added. "The ground was a little deep last night (in TD), but my young horse handled it very well. I'm so proud of her. Hopefully we will pull some 17's this weekend."
Klamath Falls' Markus Hamlin (11.2) inched ahead for first place in the tie-down roping division, just a shade ahead of Canby's Justin Talbot (11.4) and Burns' J.W. Rose stopped the watch in 13.0 for third place.
Augie Robinson (15.9), Brendan Mackenzie (16.0), Mason Chambers (17.4), Dick Hoffman (19.7), Justin Kimsey (21.1), Matt Nauman (24.5) and Brian Hill (24.6) all cracked the top-10.
Parma, Idaho's Lacey Nauman appears to have sewn up top honors in the breakaway roping class, as she scorched the field with a standout marker of 3.2.
Tenino's Melody Hale (3.5), Minden's Tessa DeHaven (3.6), Canby's Jessica Tye (4.0) and Centerville's Lexie Cameron (5.0) all had top tallies for top-5 status.
Adrian's Brian Reay and Hermiston's Tanner Luttrell joined forces for first place in the team-roping event with a 5.6 marker to their record, a few notches in front of the team of Goldendale's Tom Akins and Canby's Randy Polich, who put up a 6.3 to their record.
Yakima's Brent Baggerly and Goldendale's Kane Thiele wound up in a third-place tie at 6.6, along with the duo of Ryan Fornstrom and Jake Echevarria.
The Goldendale tandem of Mason Chambers and Cody Slater came through with an 11.3 for 10th place.
Right behind them was Goldendale's Mike Thiele and Centerville's Brad Cameron, who had a tally of 13 for 11th place, and the Grass Valley team of J.C. Cabral and Dale Benevides hustled home to a 15.3 for 12th place.
All of those times are the leaders up to this point and they carry over until the other participants complete their runs.
Another quality mix of rodeo contestants have yet to compete however, so there could be a few changes to the leaderboard as things continue.
Bigger crowds are expected tonight, Friday and Saturday, as the bareback riding, saddle bronc and bull riding competition start up.
Each event is winner-take-all, with prize money being awarded to the top-6 placers.