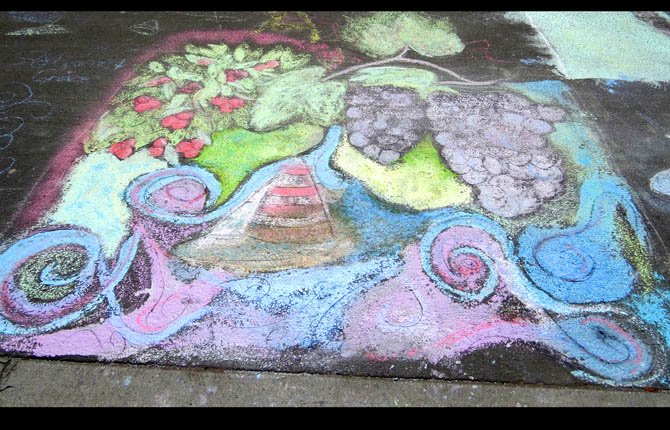 Photo Gallery
Chalk Art at Jammin' July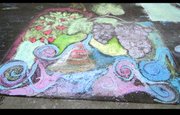 Chalk art from Jammin' July.
Downtown The Dalles was a bit more colorful July 13 after a Chalk the Block contest drew local artists of all ages to the Jammin' July street festival Saturday.
Organizer Karen Stewart said she wants to make the event an annual one.
"I think it was just a good idea, it came through, I was very pleased with it and for sure I'm going to do it again. It will be bigger and better next year," she said.
Stewart said she thinks it would be fun to do other chalk art events at the Lewis and Clark festival area on days that cruise ship passengers could come by and watch the artists at work.
The idea for Chalk the Block came to her one day as she thought about other cities' street art competitions and wondered why there wasn't one in The Dalles. She said she had about 30 people sign up, although there were a few chalk drawings that seemed to be made by someone who never filled out a sign-up sheet.
"Next year will be more organized," she said.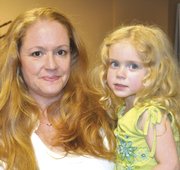 Andrea Ligammari-Kunz won first place in the adult division with her chalk drawing of grapes, cherries and other symbols of the gorge. She said she really enjoyed the opportunity to do a chalk drawing for everyone to enjoy. She said a lot of her friends in town said they didn't realize she was artistic, but she actually has a theater degree and has been helping design and paint the sets for plays at the high school.
"I thought it was a wonderful idea," she said of the event.
Chelsea Marr, a Chronicle employee who brought her son down to compete in the event, said a lot of the adults were having just as much fun as the kids.
"I didn't think it would be that big of a deal, but once you sit down and get your hands dirty you get into it," she said. "It was the most fun of the night. It was fun to get in the zone and not worry about what it looks like. As an adult you don't get to do that very often."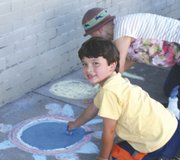 Stewart said she got a gratifying amount of support from businesses and individuals that donated money, supplies, prizes or their help. One of those helpers was Andy Nichols of Nichol's Art Glass, who served as the competition's judge. He awarded prizes to the following:
Adults
First: Andrea Ligammari-Kunz
Second: Vernon Ketchen
Tied for Third: Tara Martin and Denae Manion
Honorable Mention: Kelsey Dobo
Teens
First: Stephanie Ligammari-Kunz and Gracie McLoughlin
Second: Sydney Rains
Third: Denver Lane
Kids
First: Colin McLoughlin
Second: Wyatt Stelma
Third: Harley Beaver