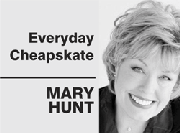 In a University of Michigan survey, interviewers asked people what they believed would improve their quality of life. The answer given most often was "more money."
In the book "The Day America Told the Truth," surveyors asked, "If you could change one thing about your life, what would it be?" The No. 1 response at 64 percent was "greater wealth."
We know from other studies that fewer Americans are "very happy" today than in the 1950s, despite having far more money, bigger homes and more stuff. By 1950, 3,000 shopping malls dotted this country, a number that grew to 45,025 by 2000. Greater affluence has not translated to greater happiness.
Are there any circumstances under which more money will bring happiness? Of course, if you are living in poverty, having more money will make a huge positive different in your quality of life, and yes, you will be happier. But if your basic material needs are met, having more money might be nice, but it's not likely to make you happier.
The problem is that money mystifies us. We can't live with it, yet we can't live without it. We want more of it, even though spending more of it won't necessarily make us any happier and often makes our lives more difficult.
I believe the answer to this predicament is found in understanding human nature. Each of us has three distinct parts, each with its own distinct need for fulfillment: emotional, spiritual and physical.
To ignore any one of these or to attempt to satisfy them inappropriately is to live a life that is confused, needy and forever in search of fulfillment.
EMOTIONAL. Research shows that happiness and contentment in life is strongly affected by the quality of our relationships, especially marital and family relationships.
Based on 10 years of research, the authors of "The Case for Marriage" concluded that all the money in the world cannot take the place of meaningful, personal relationships.
SPIRITUAL. Every person is created with what some have characterized as a "God-shaped hole" in our hearts that only he can fill. If you are attempting to fill your spiritual needs with human relationships or with money, you will be left feeling empty, unsatisfied and unfulfilled. Those things will never "fit," so you will be left with a gaping void that cries out to be filled.
PHYSICAL. Just as we are emotional and spiritual beings, we also have physical needs. This is where money comes in — to fulfill our needs for shelter, food and comfort. I'm the first to admit that I thoroughly enjoy working hard to earn a living and I enjoy spending money like most anybody else. Wealth is good. Financial security is crucial. We should not be opposed to work or money.
Money has its place in our lives and, when used responsibly, can certainly bring a great deal of satisfaction. That kind of satisfaction is much deeper than simple happiness, which comes and goes dependent on how much money we have at any given time. It is the joy and contentment that comes from using money in a personally fulfilling manner. That is what wealth is meant to be.
Mary Hunt is founder of www.DebtProofLiving.com and author of 23 books, including her 2012 release, "7 Money Rules for Life."
You can email her at mary@everydaycheapskate.com, or write to Everyday Cheapskate, P.O. Box 2099, Cypress, CA 90630.
To find out more about Mary Hunt and read her past columns, please visit the Creators Syndicate Web page at www.creators.com.