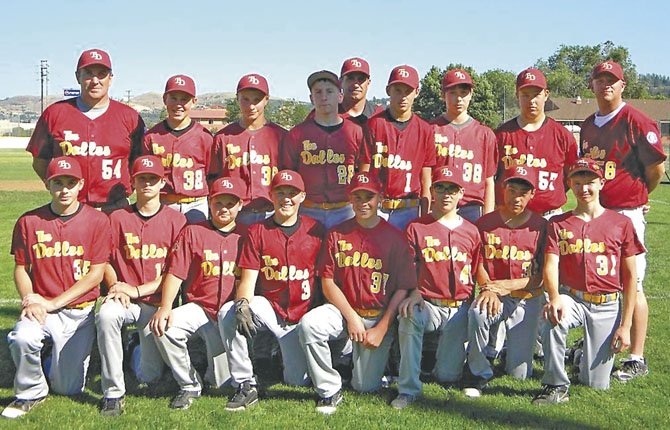 With only a few weeks with his all-star team, 13U head coach Jeff Justesen saw a lot of potential from this group moving forward.
The Dalles' 13U All Stars were eliminated from state playoff contention after suffering a pair of losses to Snake River Valley and Moundtime Wednesday afternoon at the 13U North Oregon Babe Ruth State Tournament in Baker City.
"This is one of the best groups of kids I have coached," Justesen said. "Not just good players, but great young men. They practice hard and they play hard. They are competitors and always want to win. But, the main thing is that they got along really well. Coming from different towns and different teams, I was really pleased with how they jelled."
Heading into the second day of play, TD needed at least one win with some help or two consecutive victories to move on to the semifinal rounds.
Things did not start great however, as Snake River Valley scored eight runs in the first inning and added four in the second to roll to a 14-6 win over The Dalles.
Down by a large margin in the fifth frame, TD broke through for three runs.
With one out, Daniel Peters walked, and then Bailey Keever scorched a base hit.
Tylan Webster chased home Peters with an RBI single and Kolbe Bales cashed in Keever on an RBI groundout. Webster capped the surge by coming home on an error.
Spencer Honald scored a run in the sixth frame on an error, and in the seventh inning, Webster came home on an RBI single by William Justesen.
Webster ended up going 2 for 3 with two runs, and Jacob Justesen added two doubles to his slate. Keever, William Justesen and Blake Davis had a hit apiece.
That first inning really derailed any game plan TD had in store for SRV.
"We struggled early finding a tough strike zone," Coach Justesen said. "Being down eight runs early took us out of our running game. This was a game against a team we should beat most of the time, but it just didn't happen today."
In the nightcap, Moundtime, out of Tualatin, used the same technique as Snake River Valley, with three runs in the first inning and two in the second in a lopsided 12-4 winner.
Down by five runs, The Dalles got closer and closer as the game went on.
In the top of the fourth inning, Treve Martin and Brody Woods notched back-to-back, one-out, bases-loaded RBI singles and after pitch plunked Connor Uhalde, Jose Gonzalez crossed the dish to inch TD within a 5-3 deficit.
Keever scored Martin with an RBI single to make it 5-4 with two outs and the bases packed, but the inning ended on a flyout.
Moundtime tacked on another run in the fourth to make it 6-4, and TD had a golden opportunity to tie or take a lead with the bases loaded and no outs.
Hits by Bales, Bradley Moe and William Justesen loaded the bases, but Martin grounded into a fielder's choice, and then Woods tapped into the inning-ending double play.
Moundtime took advantage of those missed chances by adding a run in the fifth and five more in the bottom of the sixth frame to close things out.
"We played a good game against a really strong team," Coach Justesen said. "We were in it through 5 innings. William gave up some runs, but pitched fairly well. Moundtime can hit, but he threw strikes and forced them to earn it."
Bales went 3 for 4, and the quartet of Uhalde, William Justesen, Moe and Martin added two hits each.
The All Star skipper admitted that playing in this tournament without the luxury of a scrimmage or game situation hurt his team in many ways.
"This squad needs to understand that in a tournament situation, every game is vital," the coach said. "We played our best games against the better teams, but we need to bring that intensity level to every game."
Since this team was comprised of many athletes from across the gorge, Coach Justesen is unsure what the future holds.
If they can come together again for another run at state or regionals, maybe the outcome is different.
"I think we could make a good run next year," the all-star coach said. "I would love to have them go to multiple tournaments and be able to get that experience together as a team. I think that is what would take us to the next level."