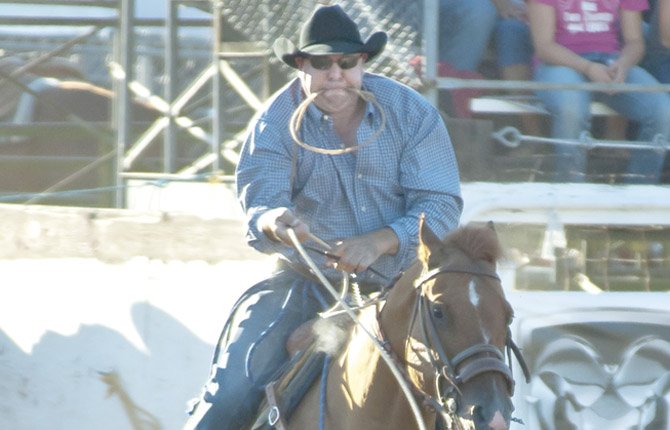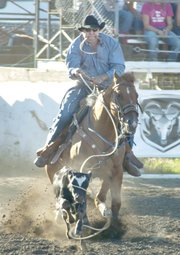 Now the plot thickens.
After an action-packed two days at the 48th annual Fort Dalles Days "Rough and Wild" Rodeo, there were leaderboard changes in three events and one of 14 bull riders turned in a score Thursday at Milt Tumilson Arena in The Dalles.
Heppner's Willy Gentry earned the distinction of carding a top score of 77 aboard his bull named After Burner to claim a lead with two days remaining.
Heading into the second day of calf roping, Steve Hoffman had a slot up on top with a 16.3-second ride, but Weatherford's Chase Richter turned up the heat with a time of 10.3 to shoot his way up to first place.
"You never know what you're going to get with them steers really. You just hope to have one run straight," Richter said. "I like my time though. Toughest part is seeing who will come closer."
Hoffman (16.3), Brock Palmer (16.8), Jeremy Finley (18.3), Ty Holly (22.2) and Kyle Sloan (27.2) added times in Thursday's round.
Markus Hamlin (11.2) remains in second place, and Justin Talbott (11.4), J.W. Rose (13.0) and Augie Robinson (15.9) rounded out the top-5 calf ropers so far.
Looking up at a time of 17.69, Cindy Woods and Kyna Schrader did not blink an eye, as the duo went 1-2 in Thursday's barrel racing event.
Woods crossed the line in 17.44, while Schrader had a solid marker of 17.57 for second place.
"Me and my horse have doing pretty well lately, so I am thankful to get a time like this," Woods said. "This event is so competitive, so to be in first place is pretty good."
Brenna Loftin (17.81), Josie Masden (17.82), Allison Vankoll (17.85), Courtney Medley (17.91) and Jessi Hoffman (17.95) all turned in times less than 18 seconds.
After Woods and Schrader, Callahan Crossley (17.69) and Jessie Jones (17.69) are tied for third place in the overall standings, and Sammi Lane (17.7), Kortney McReynolds (17.79) and Ashlie Stanley are right behind in a deadlock for seventh place.
With a time of 3.2, Lacey Nauman was sitting pretty atop the scoreboard in the breakaway roping classification, but Touchet's Michele Lyons set a new high mark at 2.2 to move into first place.
Stephanie Holly, out of Mount Vernon, notched a 2.6 for second place, Kelli Kamm, of Stanfield had a 3.3 and Kaci Kamm followed right behind with a 5.4 for fourth place on the night.
Nauman is still in third place overall, and Kelli Kamm is in fourth, ahead of Melody Hale (3.5) and Tessa DeHaven (3.6), who were in second and third place, respectively, after Wednesday's run.
Six participants broke the seal on the rodeo's bareback riding festivities, as nine points separated first-through-sixth place in the standings.
Cheney, Wash.'s Nick Gutzwiler currently stands alone after posting an 80 for first place, just two digits ahead of Powell Butte's Mitchell Rickman (78) and Kevin Lusk (78).
Ellensburg's Orlan McGuffin had a 75, Jared Bain churned out a 72 and Kyle Bounds reeled off a 71 for sixth place.
While riding aboard Tee Pee Creek, Roy Johnson made his mark with a 79 to grab hold of first place after Thursday's opening night of saddle bronc riding.
Mark Gage (77), Jacob Stacy (76), T.B. Hannan (76), Kade McLean (75), Charlie barker (73), Cliff Toone (71), Ad Bugenig (71) and Justin Chappell (66) rounded out the scoring field.
Action continues at 7:30 p.m. tonight.