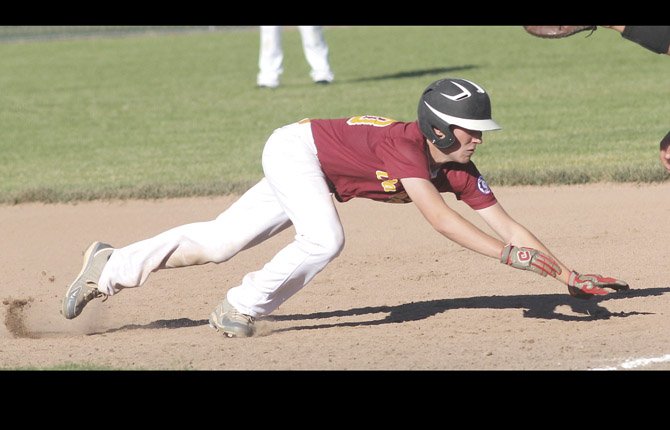 Just two days in and The Dalles 15U All Stars are on a crash course for the state semifinals in Baker City.
TD notched wins of 9-5, 10-2 and 14-2 in the first two rounds of pool play to advance to a quarterfinal showdown earlier today with District 5 opponent Clackamas for a shot at a semifinals berth.
"The boys are playing great, fundamental baseball," said skipper Matt McCall. "They are doing the little things right and making the hard plays when they need to. I am very happy with the mindset they have shown in these first two days. We need to keep it going though."
In the opening game against Snake River Valley, Devin Wilson walked four times and scored three runs, Dawson Reynier had two hits, and Colton Walker tossed four innings of one-hit ball with six strikeouts in TD's 9-5 triumph.
Through the first five innings, The Dalles methodically scored runs.
They started with four in the second inning, one in the third, two in the fourth and one in the fifth to swell the lead up to 8-0.
Snake River inched to as close as 8-5, but TD added an insurance in the top of the seventh inning, and Reynier closed the door with a 1-2-3 bottom half to seal the win.
Wednesday, The Dalles had an 8 a.m. matchup versus the Baker City Diamondbacks and posted a lopsided 10-2 winner.
All told, The Dalles had nine hits and Wilson, Payton Eaton, Matt Strizich and Dylan DesRochers drove in two runs apiece.
Reynier tacked on two hits and two runs scored, and both Kellen Mathisen and Cash Mathewson stroked two hits each.
The key to this win was execution.
"We small-balled the heck out of them," coach McCall said. "We bunted guys over, we stole bases and we did what we could to put pressure on the defense. Everyone did an awesome job of staying with the game plan."
All the hits and bunts were nice, but McCall tipped his cap to Eaton, who threw a complete-game, four-hitter with a season-high 11 strikeouts.
In two of the innings, the right-hander struck out the side. One of those occurred when the score was 6-0 in the top of the fourth frame.
Eaton had two walks and a single to start, but buckled down with three consecutive strikeouts to escape the bases-loaded jam.
In all, Baker stranded 11 base runners.
Right after the Baker game, The Dalles had another tussle against another baseball squad hailing from Baker, the Bulldogs.
TD scored five runs in the first inning, added three more in the second, and never looked back in its mercy-ruled 14-2 win.
Strizich had three hits, three runs and two RBIs, and DesRochers kicked three hits, a run and a team-high five RBIs to pace a TD offense that had 17 hits.
Eaton had two hits, two runs and two RBIs, and Walker tallied two hits and three runs.
All this offense was more than enough for starting pitcher Bryce Larsen, who went the distance and allowed two hits with five strikeouts.
So far, this has been an eye-opening offensive display for The Dalles.
In 19 innings, they have 35 hits, scored 33 runs and been issued 10 walks.
"This offense is rolling right now, I tell you that much," coach McCall said. "Every guy in the batting order is getting hits at clutch moments."