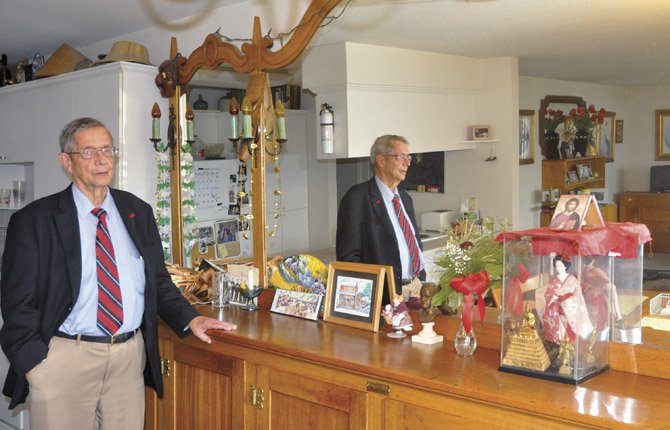 M. D. Van Valkenburgh has seen a lot change in his six decades practicing law in The Dalles.
Most recently, he helped Columbia Gorge Community College achieve full-fledged independence while serving a dozen years (so far) on the college board of education.
But in the infancy of his career, he raided "cathouses" and helped drive mafia-operated prostitution from The Dalles.
"I've always referred to these as cathouses because — I don't know — it's an easier thing for me to say than bawdy house," Van Valkenburgh said. "Wh—house always seemed a little bit too straightforward. They're all the same thing from the standpoint of what I'm talking about: the oldest profession in the world."
Van Valkenburgh talked for an interview this past week and also presented a talk on the subject in 1995, from which some of his comments are drawn.
In 1953, Van Valkenburgh was hired as a deputy district attorney by his brother-in-law, Wasco County District Attorney Don Heisler. The Dalles was a thriving river port soon expecting a big influx of workers for the construction of The Dalles Dam.
Nationally, the United States was back to work building prosperity after the hard years of World War II. Organized crime, which rose to power during the years of Prohibition, had branched out from bootleg liquor to other forms of illegal amusement including gambling, burlesque, drug trafficking (though not much in The Dalles, Van Valkenburgh said) and prostitution. "[Prostitution] was a big industry in The Dalles; I mean a very big industry. The Dalles was a trading center, and a very large trading center, relatively speaking," Van Valkenburgh said. "The cattlemen and sheepherders came to The Dalles to get rid of their frustrations, as well as the local people and others."
Travel to Portland before construction of the federal interstate freeway was more arduous.
"Truckers got extra pay between here and Portland because of the Rowena Loops, the one-way tunnel and all that sort of thing," Van Valkenburgh said. "So people stayed home and did what they did here."
Portland had its own reputation and had earned the moniker "Sin City" under crime boss Big Jim Elkins, a convicted felon from Arizona who got his start in Portland knocking over drug stores and selling the stolen narcotics, according to "Portland's Dirty Little Secret," a history seminar by Prof. Janey Ellis. Elton operated brothels on a circuit that included Portland, The Dalles, Pendleton and Spokane, among other cities.
"There were 11 houses between Tum-A-Lum Lumber and the post office in The Dalles," Van Valkenburgh said. "Not all at the same time, but off and on. And others further out in different directions."
The madams conducted business in orderly fashion, he noted. They didn't allow problems to get out of control. They cooperated with police, even leading to the apprehension of some serious criminals. They had strict rules about regular medical examinations and women who weren't healthy weren't allowed to cater to customers.
As a result of their presence, the FBI and IRS both had agents in The Dalles. Harold Clark was the FBI agent.
"His job was to interview these girls regularly and he would get information from them as to what was going on," Van Valkenburgh said. "Because, when people could come to partake of their wares, they got very friendly and would tell these girls everything they knew. And a lot of the fellas were criminals and divulged what they had been doing and a number of spectacular murder cases were resolved from information obtained here in The Dalles."
Some of the buildings where the brothels operated were owned by city councilors, he noted. Among the buildings still in existence are the Banks Hotel, the former Turner Furniture building, and the former Washington Hotel building on the river side of the Granada.
The house operators paid a good sum of money to the city police department in return for protection, generally around Christmastime, he said.
"And it was open; it wasn't under the table. They'd go down with a handful of money and it was time to pay and they'd pay. And when I was here early on, I saw that transaction on more than one occasion."
The brothels also helped drive the economy, providing income for a good-sized taxi company, dress shops, the medical community, lawyers and accountants. The madams also contributed to local causes and were generous in paying people for errands and chores, always paying in cash, because that's the way they were paid.
"I think it was the prevailing opinion that these houses were needed and that they served a good social function in that — I'd hear again and again and again — it kept men off the streets and protected the local people's daughters. I don't quite buy that theory, but there was a strong prevailing local view to that effect."
But not everyone felt that way.
"There was an agreement with the Corps of Engineers," recalled former mayor and local historian John Lundell. "Before they would go ahead with [The Dalles Dam] they wanted the ladies out."
"The Army engineers complained to the [Oregon] attorney general," Van Valkenburgh said. "The attorney general wrote a letter that said if we didn't close them down, they would."
It was Van Valkenburgh's job, working with DA Heisler, to close them down.
"I had a lot of opposition, because it stepped on a lot of people's toes and pocketbooks," Van Valkenburgh said.
The prosecutors had to establish that these houses were engaged in prostitution, so they began raiding the various houses around town. They would arrest the women, fine them $50 and release them. They raided the houses repeatedly to establish that they were continuing operations.
During this period, Editor George Lindsay of The Optimist, in true 1950s pulp novel fashion, dubbed Van Valkenburgh "the man in the gray suit," for the only suit the young assistant district attorney owned that he wore while going on these raids.
"These women who were the prostitutes seemed like nice young ladies who were being exploited," Van Valkenburgh said. "I felt sorry for them."
Meanwhile, the police and city councilors who profited from the business made things more difficult.
"The councilors just didn't cooperate," Van Valkenburgh said. The police took a more active approach. When Van Valkenburgh and Heisler, who is now 99, planned a raid they would sometimes use city police for enforcement. But city officers would warn the brothels in advance, so the prosecutors began using state police instead.
One raid Van Valkenburgh remembered was at the Washington Hotel, which had a bell on the fourth step to warn occupants of arrivals.
"So we all stepped over — there were 14 policemen, Don Heisler and myself — we all stepped over the fourth step, got up to the top and there wasn't a person there except in one of the back rooms there was a lady with a man in bed … We ripped back the covers and they were naked as jaybirds and we started to place them under arrest and they said, 'Look, we're husband and wife, you can't do this to us.'"
Heisler checked the facts and found out the man, a musician, was the madam's husband.
Once a consistent pattern of prostitution had been established, the district attorneys could padlock the building and prevent it from being used for 12 months for any purpose.
"So to the owner it meant a loss of income for his establishment," Van Valkenburgh said. "After we'd done that for a while, we then went to the city council and to the owners and we said, 'OK, do you want us to lock the doors, or do you want to take care of it?' And they took care of it."
In 1954 the state hygiene board declared that vice in The Dalles was "definitely under control and that prostitution did not exist." But the brothels didn't go far. They moved across the Columbia River to Dallesport, and did a flourishing business with little objection from the Corps of Engineers.
"In fact, it was so flourishing that the sheriff over there felt he had to participate in the proceeds and was later indicted and convicted for participating in the transactions," Van Valkenburgh said. "It was a local scandal in Klickitat County that we foisted on them."
The episode is far in Van Valkenburgh's past, but on occasion he is reminded of that era.
"Older people in town — men — will come up to me and jokingly say, 'Man, you are a bad guy; you closed down the cathouses.'"
Editor's note: M.D. Van Valkenburgh is the oldest living past-president of the Oregon Trial Lawyer's Association. He and other past-presidents will be honored by the association in August.