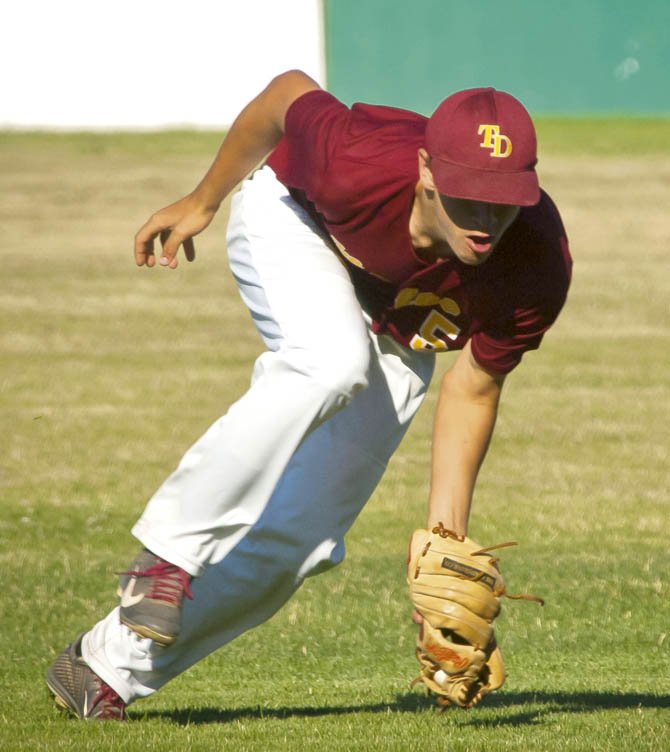 Ortega's gem, hot offense key to quarterfinals victory

With a chance to boost his undefeated 15U team into the quarterfinal rounds, Bailey Ortega picked the right time to pitch the game of his career.
The right-hander tossed six innings of two-hit ball with seven strikeouts and four walks to lead The Dalles to an 11-3 victory Friday over Clackamas in Northwest Babe Ruth State Tournament play in Baker City.
"The boys played really good," said The Dalles skipper Matt McCall. "I said if the boys come out and play good defense they would win ballgames. We have had four errors in four games, which is pretty darn good at this level. This team is playing at a really high level right now."
In three games versus their District 5 rivals, The Dalles has scored 50 runs.
With the win, TD made a move into the semifinals Saturday, where a win would move them into the title game.
From the third-through-sixth innings, Ortega retired nine of 10 batters, six by strikeout.
What could have calmed the nerves a bit for Ortega was the fact that TD's offensive dominance continued.
The Dalles scored in every inning but the third and seventh, and tacked on a pair of four-run bursts to take control.
Up by a 5-2 tally, The Dalles busted the game open in the fourth frame with four runs on two hits and two walks.
Devin Wilson and Payton Eaton received free passes and Dawson Reynier had a hit.
Wilson, Reynier, Matt Strizich and Colton Walker each came across the plate in that decisive surge.
In the fifth and sixth innings, The Dalles scratched across a run apiece on a run scored by Ortega and they tacked on another run in the sixth frame, as DesRochers, who singled earlier in the inning, later scored on a ball hit by Taeton Harrington.
Staked to an 11-2 cushion, Harrington walked one, allowed a hit and a run scored, but struck two batters and induced a groundout to retire Clackamas.
In all, TD had 12 hits, as Dylan DesRochers went 3 for 4 with a run and two RBIs.
Reynier added two more hits, and both Strizich and Walker picked up a hit apiece and scored twice.
"They are doing things right. It is really good to see these boys jell like they have," McCall added. "This has me excited about what they are accomplishing."