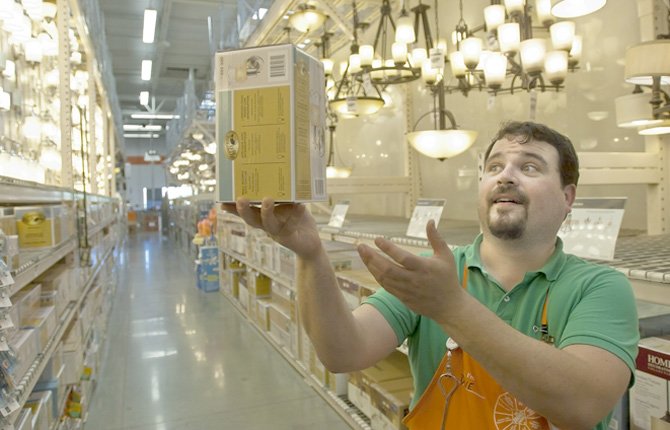 The Dalles — That guy with the deep voice in Aisle 35 at Home Depot helping customers with home improvement projects doesn't just know a jigsaw from a circular saw.
Dave Owens also knows his Iago from his Egeon, having spent time treading the boards as a paid actor for a Shakespearean troupe in Nebraska.
So it's fitting that Owens is directing one of Shakespeare's shorter and lighter plays, "The Comedy of Errors," for The Dalles Theater Co. "It's a goofy, silly comedy," he said.
He's holding auditions this Thursday and Friday, Aug. 25-26 at The Dalles Chronicle, at 6:30 p.m. The show will be performed in November.
Owens is hoping for a good turnout at auditions, and will need to fill anywhere from nine to 20 parts. It features two sets of twins, where each twin is unaware of the other's existence. Mistaken-identity hilarity ensues.
"I'm shooting for a lot of schticky humor," Owens said of the play, which he expects will run from 60 to 90 minutes.
It will be set with a 1950s beachcomber look. While the show will be in the original Elizabethan English — but without the British accent — he will have study guides with modern translations to help actors understand their parts.
As Owens grew up in Nebraska, the TV wasn't allowed to be on much, but books were always around. It gave him an early familiarity with Shakespeare.
He did his first Shakespearean play at age 13. It was Romeo and Juliet.
Shakespeare "always had this magic to it that standard English plays didn't have," he said.
The Elizabethan English of Shakespeare is, of course, a challenge.
"It's kind of like speaking a foreign language," he said.
He's heard that true understanding of a foreign language comes when you can think in that language.
He was thrilled when he felt he'd achieved that with Shakespeare. "I got it. I knew it. I knew what they said. I knew the point they were trying to make, and it wasn't in my native tongue. That's when I fell for it."
He also enjoyed being able to understand the wordplay. "A character uses a word and the opposing character uses the same word to flip it and jab at the original character. 'I'm using your words to make you look dumb.'"
There's plenty of wordplay in Comedy of Errors.
"There's this great scene where they're using geography to describe a cook," he said.
But it wasn't just the magic of words that drew him to Shakespeare.
"You give a 13-year-old a sword and teach them how to fight with it. It was a little bit of heaven there."
He eagerly learned the art of pretend-fighting, knowing that it has to be realistic or it would flop.
It requires precise choreography that has to be taken seriously. The slightest deviation can be disastrous.
Only twice has he seen blood drawn. The first time, an actor got a three-inch gash to his face during dress rehearsal.
Another time an actor advanced one foot farther than he should've, and sliced his opponent.
But those are the anomalies. "When a good fight goes off, there's nothing better in the world," Owens said.
His only close call came when his opponent accidentally hooked his sword into Owens' vest as he pretend-plunged the weapon into his side. As the actor pulled the sword away, a rip could be heard, and it jerked Owens' torso, as if a sword was really being withdrawn from his flesh.
"Oh my gosh, that was the best thing ever. That was amazing," he recounted. "I sold it. Every bit. I fell on the ground. I was clutching my side."
He was so convincing that the other actor, as soon as he was able, said to him, "'Dude, are you OK?' I'm like, 'I'm fine! That was awesome!'"
After high school, Owens headed to Chicago to study theater at Roosevelt University. But the money from his "summer job" after freshman year became too alluring and he didn't return to school.
Growing up, his mother had always drilled into him that he needed practical skills like carpentry and sewing to serve as a backup skill in theater. His high school job in a hardware store and experience building houses with his church also served him well.
Indeed, "technical theater," as backstage work is called, is more lucrative than acting, he said.
Having taken his mother's wise advice, technical theater came easily to him.
In his costume-making class, for example, "Everybody else is doing scrunchies and boxers and I'm making this cloak."
He remembers realizing that technical theater was his means to be a part of what he loved, and also pay the bills.
He can also recall precisely the moment when he felt his professional acting dream tumble.
He was at a casting call for a commercial in Chicago, and saw 20 guys there who all looked like him, even down to the hair color.
"It was one of those moments when I was just crushed. My entire life had built up to me going to Chicago," he said. "I'd always succeeded in theater, or felt like I had, and I got to this audition and I'm a dime a dozen. I'm no longer special. It was heartbreaking."
After his stint at college, he spent four years with a Shakespearean company in Lincoln, Neb. — taking part in 12 shows altogether, eight of them onstage — while holding down a day job.
Then he headed back to Chicago "with a pocket full of dreams and a crazy redhead."
He was supposed to work for a year while she got established, and then he would take a crack at his dreams. But while their relationship eventually soured — since her "year" stretched into three — the job he'd started with Home Depot was going strong.
When he moved to The Dalles four years ago, he stayed on with Home Depot, where he's department supervisor of flooring and decor.
His Shakespearean stint in Nebraska was still essentially community theater, "but you're getting paid to do what you love."
Of course, he's done plays in The Dalles and also directed a play in Lyle.
"It is still what I love," he said. As for his work at Home Depot, he said, "I have my adult job so I can go play after work."