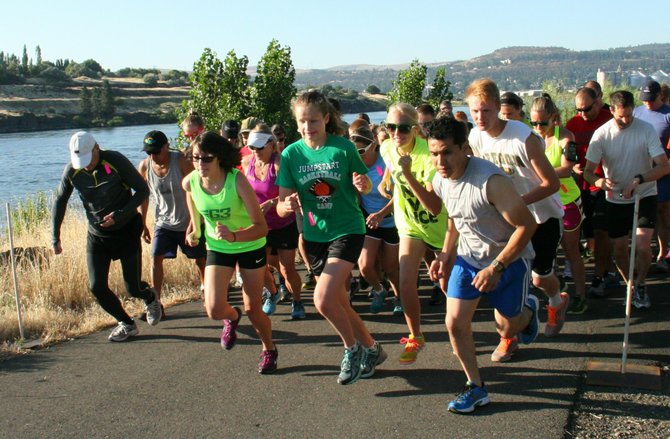 The Dalles — Dedicated mothers and long-distance runners, Leanne Neal and Erin Ford, are major believers in the Wonderworks Children's Museum.
This past weekend, they found a way to give back.
More than 90 running enthusiasts signed up for the annual 3k, 5k and 10k Fort Dalles Days run/walk at a new location at Pocket Park located on the Riverfront Trail in The Dalles.
"The new Ft Dalles Days fun run at its new location was a huge success for the participants and the beneficiary, Wonderworks Children's Museum of the Gorge," Ford said. "Over $1,000 was raised for the Wonderworks operating budget."
This event has been going on for more than 30 years, but Ford said that this was the first year Wonderworks had taken over the event.
All told, there were 94 harriers signed up for the three runs, with the most coming in the 5k race where 59 hit the pavement for some good competition.
Chase Snodgrass came through out of the pack to win the male classification and Emily Morin moved forward for women's gold.
This distance brought out many up-and-coming athletes to the forefront, including Lucy Booth, Katie Burns, Elijah Cook, Matthew Crisuel, John Miller and Harry Proctor.
In addition to that first group, Will Booth, Bill Burns, Clayton Ringer and Ethan Shubert, Luke Sperry, Chris Turner and Hanna Ziegenhagen crossed the tape in respectable times.
Of the seven runners in the 3k division, Luis Martinez notched top recognition on the men's side, while Jenna Miller was too much for her foes.
There were 28 10k runners, ranging in ages 9-64, as Paul Jones outlasted the men's group for first place and Mandi Williams ran away from the women's group to hold her own.
Three brave young souls tried their hand in the longest distance at Pocket Park, and definitely opened some eyes with their marks.
Luke McLean, Zora Richardson and Lexie Scofield could all be waiting in the wings for some winning races.
With the youngest kids in mind, Neal and Ford instituted the kid's fun run, new this year, and 12 were hustling over the pavement for local bragging rights.
Joel Ortega claimed first place in the group, but Ellie Brock, Sawyer Dray, Thatcher Dray, Riley Elliott, Preston Hobbs, Lila Lavin, Grace Neal, Evan Ortega, Titus Taylor, Rozlyn Elliott and Soloman Lavin strutted their stuff under the warm conditions.
Although the organization and execution of such of big event, Ford was proud of everyone involved.
"Leanne Neal and I are runners and moms who believe in Wonderworks and the great play and learning space it provides for young children in the gorge," Ford added. "We saw this race as a great fundraising opportunity for Wonderworks, and also a chance to make an established event even more family and kid friendly."
To find out more about the Wonderworks program or to donate, call 541-993-3122.