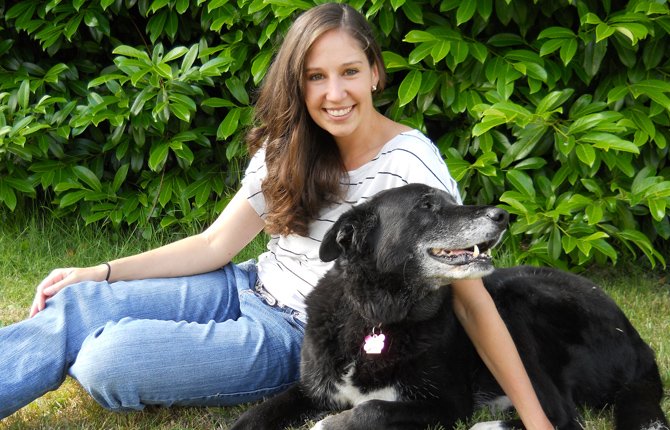 The Dalles — Rachel Collins is the new veterinarian at Columbia Veterinary Hospital in The Dalles.
Collins recently graduated from Oregon State University after eight years of education in animal sciences and veterinary medicine.
"I grew up doing 4-H and FFA programs," Collins said. "That's where I was first involved with the livestock end of things. I really felt that the bond we have with animals, either as companions or in the dependent state on nutrition and wellbeing, was worth preserving. I think we have a great responsibility, since we are dependent on them.
"I felt this was something I could dedicate my life to," she said. "I have a natural draw to animals. I enjoy being around them and I'm interested in science and medicine, too."
Collins worked at Cinder Rock Veterinary Clinic in Redmond throughout high school. She also job-shadowed Dr. Will Nunn, the previous owner of Columbia Veterinary Hospital, during summers between veterinary school.
"We remain good friends," she said.
Collins grew up in Bend, so she had access to advanced science courses in high school.
She met her husband during high school FFA, but the couple didn't start dating until college. He has been the high school agriculture instructor at Sherman Junior-Senior High School in Moro for the past three years.
They live in Sherman County with their three cats and one "old and loyal" dog, Collins said.
They enjoy hiking, riding dirt bikes and rafting in their limited spare time.
At present, Columbia Veterinary Hospital cares exclusively for small animals, and there are no immediate plans to change that, despite Collins' past agricultural experience.
"There might be some room in the future for that as well," Collins said, "but there are so many species in veterinary medicine … it's nice, as a new grad, to be able to focus on small animals and get those skills established and that knowledge established. We'll see where the business goes. My husband and I are in the process of buying a house and think we will be getting our own livestock. Whether that remains a hobby or professional with the clinic remains to be seen." Collins can be reached at Columbia Veterinary Hospital, 1000 W. Sixth St., The Dalles, or call 541-296-5059.