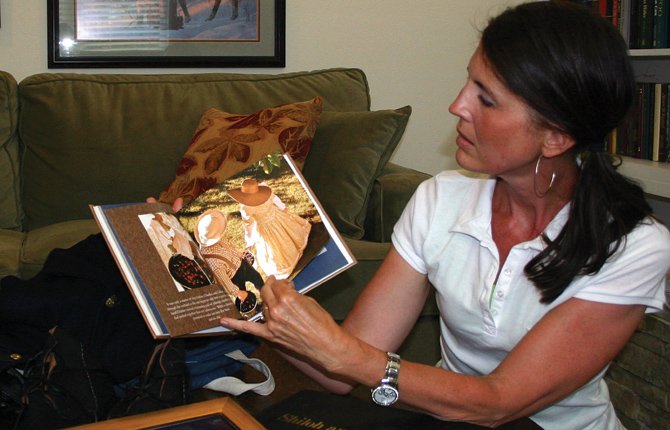 The Dalles — Writing a book is always a labor of love, but for Katherine Arbon of The Dalles, writing the children's book "Guarding Camp, Finding Home" was especially personal.
That's because the protagonist, a young Civil War soldier named Charles Watson, is her real-life great-great-grandfather. The book is based on four years' worth of letters Charles and his wife Libbie exchanged during the war. A distant relative of Arbon's gave her copies of the letters after she started researching her family history.
"I started reading the letters and I was really touched by their references to living together forever," Arbon said. "I thought, 'What a neat couple!' I'm so blessed to be their great-great-granddaughter."
Many of the letters were about the battles Charles participated in as a member of the Illinois 52nd Regiment of the Union Army, but Arbon said she was particularly drawn to a batch of letters he wrote while camped in Corinth, Miss. The letters showed the more human side of the war as Charles described camp life and told Libbie how much he missed her.
Arbon noticed he often mentioned jam and berries — foods that made him think of home. In one letter he talked about risking a trip outside the safety of the picket lines to pick a pail of blackberries to bring back to camp and use for jam. It is that anecdote that the book is based on, mixed with Charles's reminiscences about picking berries as a boy and with Libbie while the two were courting.
"It helped me see the very humanness of a soldier," Arbon said. "I wanted children to see soldiers doing something besides shooting guns in battle."
She said she hopes the book sparks conversations with children about the homesickness and other difficulties soldiers face overseas today.
"What really touches me with these letters is even though we have a world of technology that separates us from the past, those feelings of love of family and of country and of God and freedom are the same things that still motivate soldiers today. Those feelings that people have just transcend time," she said.
One thing that touched her was the way Charles was always so responsive and so sympathetic to his wife's troubles. Despite the constant danger of being shot and killed, he still took the time to do things like offer to write a letter to his mother after Libbie was hurt by something she said.
Arbon said when Charles left for war he had only been married to Libbie for two days. Shortly thereafter he wrote, "I think we have just commenced a terrible war. How it will end God only knows and trusting him I believe we shall finally triumph over our enemies and that our nation shall stand for the brightest and most powerful nation in the world."
During the next four years of war he saw Libbie only twice — once to start a family and once to see the son that resulted from the first trip. But he escaped from the war unscathed and the couple went on to have seven more children and a long life together.
As Arbon was pondering creating a book about Charles Watson, she came up with a plan to photograph her own family members, dressed in period clothing, to illustrate the book.
"It turned out to be the most fantastic experience. It was so much fun," she said.
Her children, son-in-law, daughter-in-law and grandchildren all became characters in the book. Arbon herself even has a cameo as Charles's mother, helping him make jam as a little boy. Since she has only granddaughters, she had to convince two of them to dress up as little boys for the shots of a very young Charles and his brother.
"It took a lot of bribes," she said.
The clothing in the book came from a mixture of costumes Arbon pieced together and rented. The Union Army uniform was ordered from a Civil War re-enactment website. An afghan draped around the shoulders of her daughter, playing Libbie, was actually made by the wife of one of Charles and Libbie's sons.
The locations for the photo shoots came from around The Dalles, including the kitchen at the Fort Dalles Museum's Anderson House. Arbon has made a total of three visits to Corinth, and kept sending shots of the landscape to friends at the Corinth Civil War Interpretive Center to ask if they thought the scenery looked authentic.
"It was a blast to scout around areas I thought looked like Corinth," Arbon said.
She even managed to get a shot of a little brown rabbit next to a blackberry bush to illustrate the moment when Charles worried the twigs he heard snapping were an approaching enemy solider.
As she researched the 52nd Illinois for her book, Arbon decided to also create a website honoring the men who served in the regiment. She said it has been a joy to get to know other descendents of Charles and his brothers in arms whom she has gotten in touch with through the website, the52ndillinois.com.
Now that Arbon's book is done, it will be available at Klindt's Booksellers starting the week of July 29. A few historical sites have also volunteered to carry it, including the Ulysses S. Grant cottage in New York (Charles served under Grant at Shiloh).
"Guarding Camp, Finding Home," is Arbon's first book, but she said it might not be her last.
"I have so many fun stories from my family history that are really unique," she said. "I have thought that this would be fun to do again."