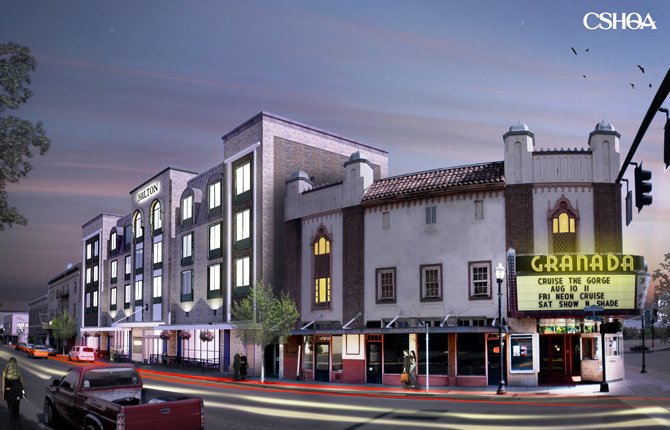 The Dalles — The seventh architectural rendering of a hotel next to the historic Granada Theatre was shown Monday to the Columbia Gateway Urban Renewal Agency board of directors.
The latest plan drafted by CSHQA Architects of Boise has four stories instead of five and is likely to be a Hilton Garden Inn, although other franchises could still be considered, said Jens Von Gierke of Wave Hospitality Advisors.
There are about 500 Garden Inns around the world and these hotels offer upscale, mid-priced rooms with a variety of amenities to accommodate business and leisure travelers, according to a company website.
Von Gierke said Hilton's Hampton Inn, which was also considered, did not seem high-end enough to fit well within the historic center of The Dalles.
"We like Hilton, they have been very good with us and are very strong in Oregon, so we feel very comfortable. But there's no lack of brands — that's the least of our worries," he said.
Wave Hospitality will be working with the Rapoza Development Group, based in Hood River, to revitalize the downtown block that is considered a "blighted" section of town. Seventy-five percent of the buildings on that block are vacant or underutilized, according to Dan Durow, economic development specialist for urban renewal.
The more than $20 million project has been reworked several times to mitigate archeological issues and accommodate changes in location.
Von Gierke said "tweaks" to the current model will perhaps be needed to satisfy investors, but the final design will probably not vary much from the image that was unveiled July 22.
The new model has 117 rooms, a roof-top terrace, outdoor pool, banquet facilities, exercise/workout facility, restaurant, lounge, and multiple meeting spaces. Von Gierke said a study conducted for Rapoza by HVS Consulting and Valuation Services, considered the premiere consulting firm in the industry, showed there was a lack of large-sized hotel meeting spaces in the area, a need that would be met by the project.
He said providing meeting space that was accommodated by lodging and food services would bring people to The Dalles who otherwise might not come due to the lack of appropriate facilities. He said the hotel would be able to accommodate about 200-500 people at conferences, which would also bring business to other hotels in town.
"We want to be as multi-purpose in use as possible to make it really work," said Von Gierke.
He was joined at Monday's meeting by Michael Leash, principal for Rapoza. The urban renewal board is comprised of city councilors, with Mayor Steve Lawrence taking the role as chair.
On the table for consideration was a request by Rapoza for a 120-day extension to purchase the Recreation and Blue buildings from the city, the first two properties needed for construction to begin.
That delay from the original date of Aug. 31 had been expected, said Lawrence, but would be the last one that he would support. He said there had already been multiple extensions on finalization of agreements to facilitate the development. Even after years of collaboration, he said the city had still not been provided with proof that significant progress had been made toward bringing the project to fruition.
"I hope you make it by Dec. 31 because I will not be in favor of extending anything," said Lawrence.
He ran a campaign for office in opposition of spending urban renewal dollars on new projects until existing historic structures had been renovated.
Von Gierke told the agency board that he had been traveling across the county to meet with potential investors, and interest was strong in the project. He said the engineering and architectural plans that Lawrence wanted to see could not be drafted because an investor would have input into the final design.
"We can't share our financial plans but this presentation is documentation," Von Gierke said. "At the end of the day, we've spent a lot of time and effort and what you see is that progress."
By the end of December, Rapoza has to show that investors are on board with the project and construction is set to begin by the summer of 2014 and be completed about six months later.
Von Gierke said it takes time to get financing in order for a multi-million dollar project because financiers want to be sure everything is in order to make the development a success.
Because The Dalles is less known than major urban centers, he said extra scrutiny was being given to the geographical area and the attractions it offered visitors.
"Investors need the time to review where it is and what it is," said Von Gierke.
Support for Rapoza's plans was expressed by councilors Dan Spatz, Carolyn Wood and Tim McGlothlin.
"So, speaking for myself, I want you to succeed so if there's anything we can do to help you succeed, let us know," said Spatz.
McGlothlin said city officials had learned a great deal during the three years of negotiating agreements about the complications faced by the business sector to get a major project under way.
Wood said the adage "Nothing ventured, nothing gained" seemed appropriate to the occasion. She said urban renewal had not invested any money in the project that would be lost if Rapoza's plans fell through.
The agency has purchased four properties that are slated to be sold to Rapoza, and spent $120,000 for the archeological survey of the Recreation Building. Another $100,000 could be expended for demolition of that property. At past meetings, officials have said these investments would have been required for any development and set the stage for new plans if the deal with Rapoza falls through.
The agency also plans to spend several million dollars on a parking structure to accommodate hotel guests and visitors to the downtown area. Nolan Young, city manager, told the board at the July 22 meeting that only preliminary planning had been done and no further work would be undertaken until Rapoza's development became a certainty.
Rapoza plans to purchase four properties altogether for the price paid by the agency. The first will be the Recreation building — to be demolished — and parking lot for $475,316, with a credit of $10,000 for past taxes that have already been paid.
Second is the Blue Building for $380,000 and then the Granada theater for $365,406 and the Commodore II parking lot for $102,000. As part of the deal, the historical characteristics of the theatre must be preserved and the agency will spend $200,000 to upgrade the HVAC and sprinkler systems.
The urban renewal board voted unanimously at the end of a 60-minute discussion to grant Rapoza's extension request.