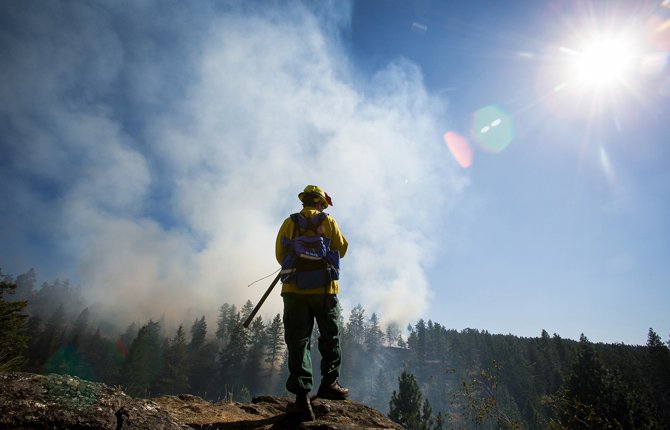 The (Klamath Falls) Herald and News, July 22, on federal funds for wildfire prevention:
There's worse ahead.
The ominous suggestion was made in the wake of Arizona wildfire that killed 19 firefighters earlier this month. It came along with comments from wildland firefighters and scientists that fires are getting bigger and more erratic.
Concern has been growing for years in the West about wildfires. In addition to killing people, they have destroyed thousands of structures.
Yet western Congressmen and Senators have to struggle year after year to get funds to make forests less likely to burn.
Part of the "healthy forest" initiatives includes selective logging and biomass production creating jobs and would help clear away clogged underbrush that helps turn minor fires into major ones.
The funding problems include the use of less-than-realistic projections of fire danger by Congress in funds budgeted for fighting fires.
The point was raised in a recent letter to the secretaries of Agriculture and Interior and the Director of the Office of Management and Budget from Oregon Sen. Ron Wyden, chairman of the Energy and Natural Resources Committee.
The letter criticizes the administration's fire-fighting budget request that he and other committee members said would result in decreasing funds for "non-fire" programs "including those that keep wildfire suppression costs down, such as hazardous fuels reduction ..."
Congress needs to think about the long term and find the funds that will pay off with healthier forests, less fire damage and less danger to people, including those who fight fires.
The letter also pointed out that over the past 10 years, the cost of fighting fires has gone from 13 percent to 40 percent of the Forest Service budget.
Klamath County is vulnerable to wild fires, though hasn't had a major fire this year. Not only is the county in a severe drought, it has large stands of dead and dying trees killed by the pine beetle, a problem common throughout the West.
The same is true for Lake County, which was the site last year of the 93,000-acre Barry Point fire, which also burned in northeastern California.
Obviously, there are factors beyond human control when it comes to preventing wildfires. But surely Congress should be able to see the long-term benefits of heading them off before they start.