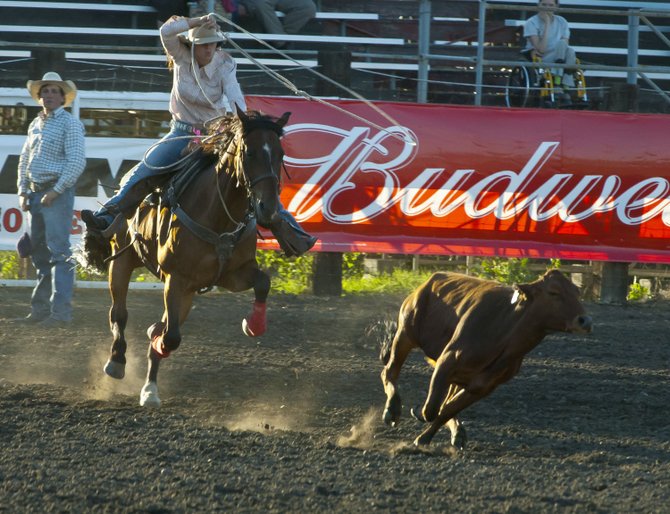 The Dalles — As the list of bull riders came to an end, after three days of competition, it appeared as though Willy Gentry would be the lone bull rider to score a complete score.
That is until contestant No. 26, The Dalles Wahtonka High School graduate, Ronnie Webber, mounted his bull, Ryan's Jacket, for a chance at top money.
Webber eclipsed the eight-second mark and reached a combined score of 78 to surpass Gentry and vault into first place on the final day of the 48th annual Fort Dalles Days "Rough and Wild" Rodeo Saturday at Milt Tumilson Arena in The Dalles. For his efforts, Webber received a check for $1,900 and some shiny new hardware.
"It is an honor to win first place. It is an unbelievable feeling to do it here for the first time here in The Dalles," Webber said. "You just never know what to expect when you get on, you pretty much just hope for the best. I give all the praise to God for watching over me while I rode. This is a great feeling."
Gentry wound up in second place with his 77 and received a check for $1,267.
It was a tough weekend for prospective bull riders, as they matched skills with these bulls from the Gold Buckle Rodeo Company.
Several of the Northwest Professional Rodeo Association's top cowboys were bucked off without a final tally.
"Those bulls gave them some good competition. Only two were able to make it, so it showed something about the stock we used," said Rodeo Association Board Member Jake Grossmiller. "Anytime you get the top bull riders and some good bulls, you get a good show. I hope the fans enjoyed it."
Just as the bull riding session came down to the wire Saturday, the barrel racing saw a final performance that garnered a top finish.
Cheney, Wash.'s Pamela Capper scorched the grounds in her try and crossed the finish line in an impressive 17.12 seconds to vault Cindy Woods (17.44) for first place.
Of the 12 participants who ran on Saturday, Capper did her work and Corenne Schultz scored a 17.57 to finish in a tie for fourth place overall.
Britni Carlson (17.54) ended up second, Schultz and Kyna Schrader were fourth, Torri Longgood (17.63) ended up sixth and Sierra Ridley (17.65) rode out to seventh place.
In four days, the breakaway roping field had some top performances littered throughout.
On the final day, Alexis Doutre (3.3), Sammy Jo Cardoza (3.7) and Bailey Minor (4.9) were three of six who notched times.
However, none of those marks was fast enough to catch Michele Lyons, who had an event-low of 2.2 to grab top prize.
Jennifer Frohman (2.3), Stephanie Holly (2.6), Ridley (2.9), Lacey Nauman (3.2), Kelli Kamm and Doutre (3.3) and Melody Hale (3.5) rounded out the top-8 in the order of finish.
Grossmiller walked impressed with the times put up in both the barrel racing and breakaway runs.
"I tell you what, you rarely see times that good in any rodeo, but to have them do that here was fun to watch," Grossmiller said. "Those young ladies really showed up and had great performances."
Anytime a duo combines for a time of less than five seconds in team roping, they more than likely will take home some serious hardware.
Such was the case for Tanner Baldwin and Hayes Smith.
On the final day of events, they scored a time of 4.7 seconds to pick up first place, beating their next opponents by nearly a second.
The tandem of Clayton Hansen and Garrett Jess had a marker of 5.5 for second place.
After that, the three teams of Brian Reay and Tanner Luttrell, Shane Erickson and Brent Falon, Tyler and Travis Whitlow ended up tied for third place with their times reading 5.6 seconds.
Jake Stanley and Jake Minor (6.0) ended up sixth and Sam Willis and Austin Thompson (6.2) placed seventh.
Roy Johnson held the lead in saddle bronc for a few days after his 79 put him ahead in the pack, but late Saturday, Jace Angus climbed aboard Nez Perce and rode out to an 81 to snatch first place.
Mark Gage (77), Jacob Stacy (76), T.B. Hannan (76), Kade McLean (75) and Charlie Barker (73) produced the top-8 finalists.
With his score, Angus was able to beat six of the NPRA's 2013 top-10 money earners.
"Never thought I would get it, but it is exciting," Angus said. "You always hope to get in a winning ride. With saddle bronc, you never know, especially with the animals you work with. This is something that gives me some confidence. Now I want to keep on winning more this summer."
In the bareback riding, Nick Gutzwiler had his score of 80 set on Thursday and rode that rally for first place by a two-point spread over Mitchell Richman (78), Seth Shelton (78) and Kevin Lusk (78).
Orlan McGuffin (75), Jared Bain (72) and Kyle Bounds (71) rounded out the standings.
Terrebonne's Shane Erickson eclipsed the field with his 10.2 in calf roping, but had to wait as 10 cowboys took their turns on the final night of competition.
Clint Endicott had a 12.5, Jake Talbott garnered a 13.4 and Ringo Robinson had a 15.3 for the top-3 Saturday.
Some of the numbers were good, but not good enough, as Erickson grabbed top honors.
Although he did not win in The Dalles, Weatherford's Chase Richter scored a 10.3 for second place and received a check for $1,204.80 to swell his NPRA-leading purse for a total of $14,970.68.
Entering Saturday, Richter had a sizeable money lead over Ellensburg's Jason Minor (8,476.09), who did not get a time in The Dalles.
Ricky Canton (11.0), Markus Hamlin (11.2), Justin Talbott (11.4), Endicott (12.5), J.W. Rose (13.0) and Jake Talbott (13.4) capped the top-8 of the 26 who captured final times.
Four of the top-5 marks put up in the steer-wrestling event, were put up Saturday, as Touchet's Taylor Gregg came from out of the clouds to stop the watch in 4.6 seconds to grab first place by .1 seconds.
Travis Taruscio (4.7), Cooper Clemens (4.8), John McGinn (5.1), Sam Shelton (5.2), Travis Erb (5.3), Jacob Stacy (5.4) and John Green (5.5) rounded out the eight money winners.
On the novice side, Maupin's Johnny Espeland capped his weekend with first place in the saddle bronc division with a high of 80.
His score bested those of Trent Ezell (60) and Hunter Davis (49).
While aboard Rough N Wild, Corey Rose had a mark of 67 to score first place in the novice bareback event.
Locally, the next rodeo is scheduled for the week of Aug. 15-19 in Tygh Valley.
Grossmiller announced there was a bull riding event to run in Sherman County this summer, but no date has been set.