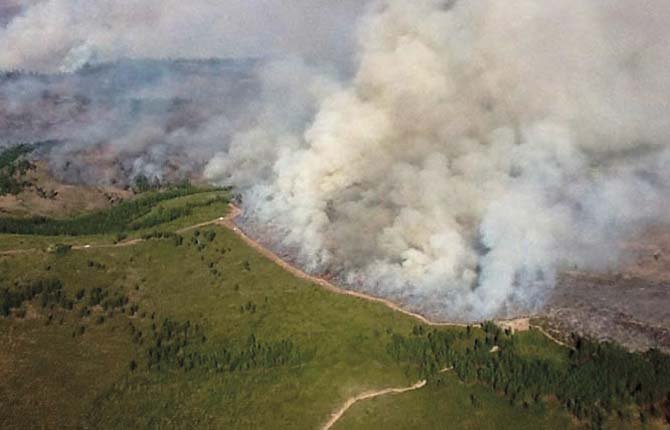 Highway 97 from Goldendale to Toppenish is closed due to a wildfire at Satus Pass, and Kah-Nee-Ta Resort reopened early this morning after the Sunnyside Turnoff Fire, still only 40 percent contained, closed it.
As of Thursday morning, the Sunnyside Turnoff fire has burned 47,153 acres and is located on lands of the Confederated Tribes of Warm Springs, east of U.S. Highway 26, near Warm Springs.
A Level 1 evacuation order, where people are told to prepare for evacuation if needed, remains in effect for 50 homes in the Schoolie Flat area.
Some 120 homes were evacuated over the weekend, but that evacuation order has been lifted.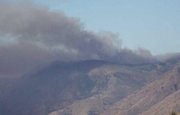 In Washington, fire is burning on both sides of U.S. Highway 97 and has closed a 30-mile stretch of the highway between Goldendale and Toppenish.
The Yakima Herald-Republic said the fire first reported Wednesday morning had burned across about 1,200 acres – or nearly 2 square miles – by Wednesday evening.
Forty firefighters and two water-dropping helicopters fought the fire, which sent up a huge column of white smoke.
The wildfire is burning in forest and grassland on the Yakama Indian Reservation north of the summit of Satus Pass. Its cause was not immediately known.
While these larger fires burn, another fire near Maupin was quickly put out and burned only a half an acre.
The Oaks Spring fire started yesterday at about 3:15 p.m. and was out in about an hour, said Lisa Clark, fire information officer with Central Oregon Interagency Dispatch.
The human-caused fire burned between the Deschutes River and the Deschutes River Access Road that leads into Maupin, she said.
"Had it jumped the road it probably would've very easily gone to the rim of the canyon," she said. Once it topped the canyon rim, it could've burned into wheatland, she said.
"We even launched our helicopter and before they could get there it was recalled because it wasn't needed," she said.
There were no closures because of the fire, and the river is open to rafters. The fire was at the Surf City camping area, right next to Oak Springs, a little south of Sherar Falls.
The Juniper Flats Fire Department, 10 crew from Prineville BLM and private citizens helped fight the fire, Clark said.
The BLM happened to have a brush rig in the area monitoring the Warm Springs fire, she said. Two other BLM rigs responded from Sherman County and Prineville.
The fire was close to Sandy Beach, a major rafting take-out, "so we have a lot of public in there so it was definitely a major concern," Clark said.
The Associated Press and Inciweb contributed to this reporting.