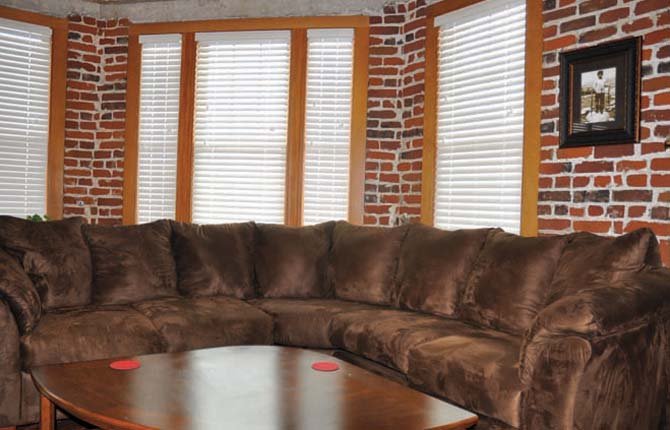 The City of The Dalles wants to encourage downtown building owners to convert vacant space upstairs into apartment units.
On Monday, the elected body unanimously approved formation of a Vertical Housing Development Zone to provide a property tax break for owners who create residential housing in unused sections of their structures.
"It's another tool to try to encourage folks to build residences in the downtown area without taking up commercial space on the ground floor," Dick Gassman, director of the city's Community Development and Planning Department, told the council at the July 22 meeting.
In a follow-up interview, he said there are 23 buildings that could benefit from the tax incentive within the existing boundaries of the Columbia Gateway Urban Renewal District.
The city council wants to provide an incentive for those property owners to ill the empty upstairs sections of their buildings. Toward that end, officials approved a property tax break of 20 to 80 percent for the buildings' upstairs space. That amount is dependent upon how many floors are being renovated and other factors, said Gassman.
The tax break begins when work starts and extends for 10 years.
Gassman said local taxing districts can request to opt out of the program. However, he said these agencies will be unaffected by any additional revenue that is generated for the next 12 years. Under the urban renewal agreement, extra tax dollars that are realized until 2025 will be banked for the purpose of revitalizing the downtown corridor.
Although public agencies might give up a limited amount of tax dollars to help building owners provide residences, Gassman said these entities are likely to gain from the projects. He said if greater economic development occurs as a result of renovating the downtown area, then everyone benefits.
Councilor Tim McGlothlin said the fact that more people would be available to support downtown businesses had drawn his support.
"It's a good opportunity, in my mind, to do it," he said.
Councilor Dan Spatz agreed.
"To me, this is all about increasing the vibrancy of downtown," he said.
Gassman said notice will be sent to the affected taxing districts and they will have 30 days to opt out before Oregon Housing and Community Services is asked to sign off on the plan.
Councilor Linda Miller inquired if there had been interest from property owners in the zone and Gassman said there had been. However he said the amount of money involved in a major renovation to accommodate residences was likely to pare down the number of people who proceeded with plans.
"I think getting additional folks living in the downtown area is a good idea, but it's not an easy goal," he said.
The expense of retrofitting space an aging building for multiple residences can include wiring upgrades and installation of a fire sprinkler system. Also required will be a fire barrier made up of several layers of sheetrock between commercial space on the first floor and upstairs residences. Sometimes the stairway of a structure also has to have walls lined with sheetrock for added protection if residents are forced to exit the building due to a fire.
Bob Futter, building official from the Mid-Columbia Council of Governments, which administers local permit programs, said there is some flexibility in building code standards for one or two units.
For example, it might be possible to replace sprinklers with a fire alarm system that would provide enough protection when added to the standard smoke detectors and some easily-accessible fire extinguishers.
"We have to make sure that people have time to get out of the building in case of a fire," said Futter.
He works with Dan Hammel, fire marshal for Mid-Columbia Fire and Rescue, to come up with a safety plan for residential units that meet standards in as cost effective manner as possible.
"Historically, a lot of these buildings once had residences upstairs and we take that into consideration," said Futter. "We are always going to be willing to work with an owner to come up with a plan that meets the code without breaking the bank of the homeowner or hurting the building."
Hammel said, "Any alternative that we allow has to meet the intent of the code, which is to get everybody out. There is no simple answer about what has to be dome because there are so many different parts of the code you have to go through to address certain things. Each project is going to be unique.
He said the cost of a sprinkler system as advertised by the American Fire Sprinkler Association is $1-2 per square foot for a new building or $2-3 for retrofitting an older structure where labor will be more intensive.
However, Dan Durow, the city's economic development specialist, said grant funds are available through urban renewal to cover the cost of sprinklers.
Futter said installation of an elevator is not required for rehabilitation of an older building, which spares owners an expense that is likely to top $100,000. However, he said historic features, such as rounded corners and decorative molding, might have to be sacrificed for safety. He said some of these architectural elements might be eliminated with installation of the fire barrier.
On Wednesday, he said the only building that had converted upper-story space into apartments was at the corner of Second and Washington and owned by Scott Gayer.
He has renovated the upstairs of the historic Citizens First National Bank building, 306 Washington, into three extended-stay loft apartments, intended for people who need a residence for something longer than the typical motel stay.
His building was once a bank and also a drug store at one time. Gayer now rents out the ground floor to an insurance company and the second floor for offices.
The largest living unit faces Washington Street and has a river view from the broad, bay-fronted expanse of windows. Furnished with a comfortable sectional and an office ready to do business, the apartment also features vertical-grain pine wainscoting below the original warm red brick.
All of the apartments have granite kitchen countertops, subway tile backsplashes, and period-style bathroom fixtures. In one of the units, the bathroom sheetrock has been artfully torn away above the sink to reveal the break, which was part of the original French & Company Bank building wall, one of the only two sides remaining.
The exposed beams of the largest apartment are 2-by-10 joists salvaged from the bank demolition.
The units come furnished and include utilities and housekeeping service. The apartments also have access to a rooftop deck, a place that Gayer plans to make available for wedding receptions and other gatherings.