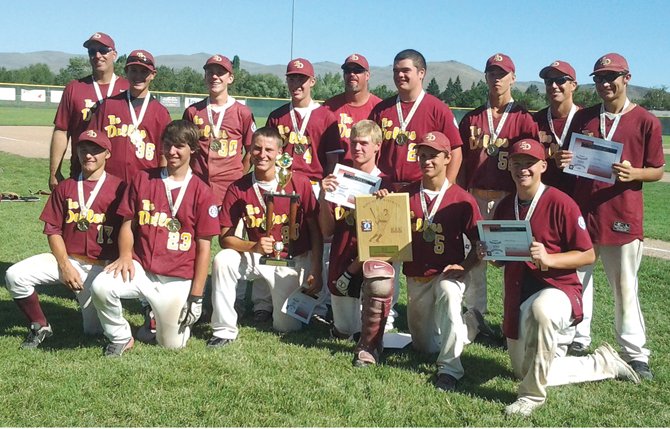 The Dalles — Bats and balls. Check.
Gloves and cleats. Check.
A briefcase and a nice suit. Check.
Those are the main tools needed for The Dalles' 15U Babe Ruth All Stars team as it attends a business trip in the Pacific Northwest Regional Playoffs starting Sunday in Centralia, Wash.
Now that they sent a clear message that they belong in the regional picture, the 2013 state champions are looking to avenge last season's regional debacle on their home turf.
Things are much different this time around.
"Last year, how we got to regionals, nobody felt that we earned it," said Payton Eaton. "Now that we have really earned it, it shows everyone that we are capable of playing good baseball when it matters."
This time, the Stars head into regionals riding a season-high eight-game winning streak and they have a little bit of swagger in their step.
In 40 state tournament innings last week at Baker City, they racked up 71 hits, scored 61 runs and won all six games by an average margin of 7.16 runs.
Kellen Mathisen warns that his team needs to remain focused on every game as it comes.
"We cannot take this next tournament lightly," Mathisen said. "We can't go in thinking that we are going to kill everybody. But, we still need to have confidence in each other. To keep that confidence, we need to play smart and not make stupid mistakes. We need to be sure that we are mentally and physically prepared for everything that is about to come."
The Dalles is one of 10 teams from the Northwest territories — Alberta, Canada, Wyoming, Montana and three Washington squads, including the 2013 regional champions, Twin Cities, who placed fourth in the World Series.
While Twin Cities is a huge threat, there are worries that pitching depth could be a concern with their ace suffering through injury issues.
South Coast, from Oregon, is another team TD faced last year that enters play a little nicked up.
The Dalles has 12 active players on the roster, but they will be without Tanner Piekkola and Colin Noonan.
Through some of its injuries, The Dalles still managed to get some clutch hitting out of Matt Strizich, Dylan DesRochers, Taeton Harrington, Cash Mathewson, Dawson Reynier and Devin Wilson.
From the mound, Bailey Ortega, Bryce Larson, Eaton and Colton Walker held opponents to a .214 batting average with 19 runs allowed in six games.
Overall, the Stars were behind on the scoreboard twice, but just for half an inning each, until reversing the trend with big rallies.
While there was some apprehension as to how well TD would fare in Baker City, those six games proved a lot between the ears.
"I think winning state relaxed us a lot," said Walker, who tossed a 15-strikeout no-hitter last Friday against Newberg. "Knowing what we could do as a whole, gave us the confidence boost that we needed. It helped us shine a little more."
Much of the stress of a game plan heading into regionals is out of the way, as head coach Matt McCall and his assistants, Rick Wilson and David DesRochers, have hashed everything out in terms of lineups, pitching order and positions.
The keys to success according to McCall lie in continued execution, small ball, smart base running and solid defense.
Offensively, Dylan DesRochers said the players in the dugout get excited when one person hits the ball and then they compete with each other to see who can do better than the rest.
That shows the camaraderie within the group is at a high.
"We have improved a whole lot," Dylan DesRochers said. "In the past, we have not won very many tournaments, but now that we are older, we have started to win a lot more. We get along and we are playing well together. Our realistic goal is to win the tournament and then go down to Virginia for the World Series."
In this regional tournament, the 10 teams are broken up into two pools of five for four games in five days.
The top-2 in each division move on into the championship bracket for play on Saturday, Aug. 3, where it is single elimination.
The championship game is scheduled for 5 p.m. on Sunday.
"If we keep playing at the level of baseball we are playing right now, I don't think there is any team at that tournament that can stop us," Mathisen said. "We are playing perfect baseball going into that tournament. If we keep that up, we are going to surprise a lot of people."