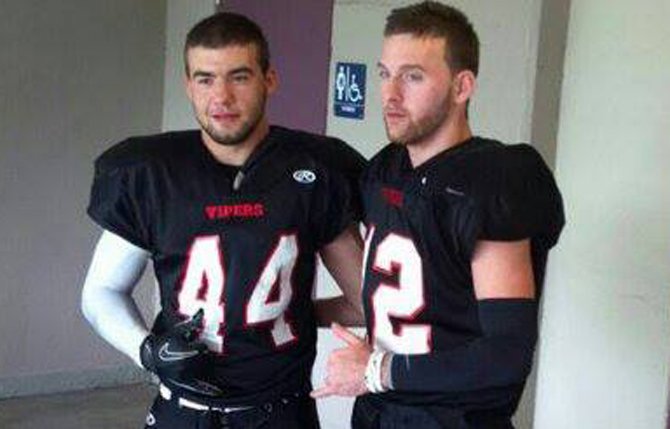 Even after graduation, brothers David and Zach Saylors still have that football bug.
There is nothing to replace the adrenaline rush and the physicality of the sport, under the lights, in front of loud cheering fans on the gridiron.
This past season, David and Zach played on an 18-years-old and up semi-professional football team, out of Vancouver, Wash., called the Clark County Vipers.
Although the team went 1-9, David secured first-team all-Northwest Minor League Football for his play at fullback.
Both brothers also earned the honor of playing the league's end-of-the-season all-star game.
"It felt so amazing (to win this award)," David said. "I have been really focused and am committed to the team."
From his fullback position, David averaged 20 yards a catch and 70 yards a game for an offense that scored 109 points in 10 contests.
Coming straight from an all-league senior campaign at The Dalles Wahtonka High School, where he finished with 301 yards on 75 rushes and three scores, David admitted that he was unsure how he would fare against an older, more experienced age group.
"I didn't think I would do so good, but I came in really strong and just played like it was any other football game," David said. "I didn't let myself get intimidated."
Just two seasons ago, Zach, a 2007 TDW graduate, earned second-team honors at linebacker, so the brothers share awards for playing at a high level.
Most importantly, Zach is just happy to strap on the pads with his baby brother.
"It's a true honor, first of all, to be able to play the sport I love with my little brother," Zach said. "But, to be the best in the league at our positions and play alongside him is something special that I will treasure forever. I know he has the offense and I got the defense."
The league is comprised of 11 teams spanning Washington and Oregon, with most of the athletes hailing from the Vancouver area.
The Viper squad has five brothers on it, and David considers this team his second family.
They have grown together over the course of this season.
With more time on the field, Zach feels David can only improve.
"I always knew we would do well out of the gates. I have confidence in myself and the talents of David and me," Zach said. "We are dedicated and leaders. That's something you can't teach."
Zach went on to say that in order to be successful at this level, they have to be a team player and able to take coaching well.
Most of all, they need to have the drive to get better.
"I've been a leader on every team I've played for and been the coach on the field making sure my teammates are in a position to be successful," Zach added.
David plans to play for at least two more years until he graduates from Columbia Gorge Community College with a transfer degree before heading off to either Western or Eastern Oregon University.
David is currently taking courses in secondary school education, where he eventually wants to become a (high school) gym teacher.
Zach said the duo would be playing next year together for sure.
Where they will be taking their talents is an unknown, but it is something they will talk about in the future.
For now, they are enjoying those snapshot moments on the football field together.
"I take a lot of pride in him looking up to me. It means I've done something right," Zach said. "He is my best friend and I'll have his back in anything for the rest of our lives. I root for him to succeed in every part of life. I get pumped for it all. If he gets a job interview, I'll give him a fist pump like Tiger Woods. I'm just excited to be a big part of my little brother's life."