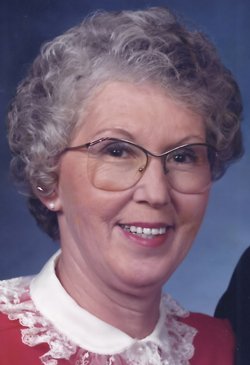 Doris Jean Collins Flint of Mosier, died Wednesday, July 24, 2013 at a local care center from MDS. She was born on April 9, 1935 to Harley Casto Collins and Mabel Emma Wright Collins in Idaho Falls, Idaho. The fifth of seven children, Doris attended and graduated from Idaho Falls schools. She married Lewis Flint in 1952 and immediately moved to McMinnville, Oregon, during which time they had three children, Hugh, April and Paulette. In 1961 the family moved to The Dalles and they have resided in the area since.
Doris was active in the community throughout her life. As a young woman she was involved in Soroptimist Club and Chenowith Baptist Church where she assisted with some of the office responsibilities. Later in life she was one of the first women admitted to the Elks, where she loved to help cook for banquets and other events. She was also a member of the Mosier Grange, and the local GOP for which she served as treasurer for several years. She was a hard worker. Her work career as a bookkeeper/accounting administrator spanned many years, and included jobs at Columbia Park Hospital, and OHSU.

Away from work, she liked to grow her own fruit and vegetables, which she canned in great quantities as well as several hundred pounds of tuna each year. For many years Doris and her husband farmed a small peach orchard at the family farm and she was famous for her peach pie, which replaced cake for nearly every family birthday celebrated. The kitchen was her special domain, where she cooked and planned meals with great enjoyment. Fudge was a specialty, and she donated it regularly to organizations she was involved in. She loved to crochet and embroider, and was an avid reader also.
Doris was preceded in death by her parents, infant daughter Laura, and her brother Ray. She is survived by her husband, Lewis of 60-plus years, her son, Hugh, daughters, April Bachofner (Rick), and Paulette Brook (Jack) all of Mosier, as well as her grandchildren Erin and Ian Brook, Bethany Flint, Beau and Trevor Bachofner; two great- grandchildren Rosie and Manuel; siblings Roy Collins (Marianna), Eileen Keller, Olive Dean Wright, Beth Elliott (Joe), Tom Collins (Pam); as well as numerous nieces and nephews.
Viewing will be from 6-8 p.m. Friday, August 2, and Funeral services will be held Saturday, August 3 at 10 a.m. Both will be at Spencer, Libby and Powell. Interment will follow at the Cherry Heights Oddfellows Cemetery in The Dalles.

Donations can be made to the American Cancer Society in her honor.